ParthaSarathy Temple – Chennai:
Partha Sarathy Temple in Chennai is one of the famous Vaishnava temples. This temple is located in Triplicane (Thiruvallikkeni) of Chennai city. This temple is said to be one of the 108 Vaishnava Divya Kshetras. Historians estimate that this temple belongs to the eighth century. Parthasarathi in Sanskrit means Partha = the charioteer of Arjuna ,the one who drove the chariot(Ratham) i.e. Sri Krishna.
ParthaSarathy Temple Chennai Timings:
Triplicane ParthaSarathy Temple is open on all the weekdays, timings can be changed at festival and holiday time. The Regular temple opens at 06:00 am and closes at 12:00 pm after 12 temples closes and again it opens at 04:00 pm and then closes at 09:00 pm at Night.
The uniqueness of the ParthaSarathy Temple:
According to the epic Mahabharata, Lord Krishna is Arjuna's charioteer(RathaSarathi) in the Kurukshetra war. At the beginning of the Kurukshetra war, Krishna prepares Arjuna for battle by teaching him the Bhagavad Gita, thinking that his relatives on both sides will die in the battle. The Moola Virattu here has some special features, telling about the ancestors who participated in the Kurukshetra.
This is a unique temple where Lord Krishna is worshiped along with his family at one place in the sanctum sanctorum. On his right is Rukmini and on his left is his younger brother Satyaki. To Rukmini's right, Balarama is seen facing north. Son Pradyumna and grandson Aniruddha are north of the main sanctum facing south. Krishna in the form of Parthasarathi is depicted with a prominent moustache, holding a conch in his hand.
Being born in the Yadavas clan, Parthasarathi has only a darushilpam (wooden figure) as a ceremonial figure. Usually the idols of Utsava Murthy are made of pancha metals(Pancha lohalu) or stone.
Parthasarathy Temple Pooja Timings:
1 Thirumanjana Kudam (Thirumanjana Kudam) – 05:45 AM to 05:55 AM
2 Viswaroopa Pooja (Viswaroopam) – 06:00 AM 
3 Thiruvaradanam Pooja (Thiruvaradanam Pooja) – 06:15 AM 
4 Kalasandhi pooja (Kalasandhi) – 08:00 AM 
5 Uchikkala Pooja (Uchikkala) – 11:00 AM 
6 Thirukkappu (Closing) (Pushpa Alangaram) – 12:30 PM 
7 Thirukkappu (Opening) (irrakkalam) – 04:00 PM to 09:00 PM 
8 Nithiya Anusanthanam (Nithaya Padi) – 06:00 PM 
9 Thiruvaradanam (Night Pooja) (Arrathanam)- 07:00 PM to 08:00 PM 
10 Ardhajama Pooja (Except Saturdays and special days)- 09:00 PM to 09:15 PM 
ParthaSarathy Temple History:
The 8th century structure was built by the Pallavas and restored by the Vijayanagara kings in the 11th century. King Narasimhavarman, a revered art lover also known as Mahamalla, of the Pallava dynasty is believed to have laid the foundation of the temple.
The ParthaSarathy temple is located in an area called Alikeni, which means Lotus pond, the area is said to have many lotus ponds and was once a Tulsi grove. Legend has it that a king named Sumati went to Tirupati seeking an apparition of Lord Vishnu as Parathasarathy and he was led to this holy temple.
Near the temple is a holy pond with five holy wells and the water is said to be more holy than the water of the Ganges. The many wounds caused by Bhishma's arrows in the Mahabharata war were displayed on the face of the presiding Lord Parathasarathi.
Architecture of Partha Sarathy temple:
The magnificence of the sacred shrine built in Dravidian style of architecture attracts the visitors. There are Ranganatha and Sri Rama in the Mukha Mandapam. Ganjendravarad and Yoga Narasimha are seen in the shrines of Prakaram. Sri Ranganatha can be seen resting on Adisesha.
The Parthasarathy Temple is a magnificent sight that includes the magnificent shrines of Narasimha, Sri Yoga Narasimha, Gajendra Varadhar, Chakravarti Thirumagan, Lord Ranganatha, Goddess Vedavalli and Andal. It also features Hanuman, Swami Manawala Mamunigal and Vedantachariyar.
The incredible complex has four forms of Lord Vishnu namely Narasimha, Rama, Gajendra Vardaraju, Ranganatha and Krishna. Colorful Rajagopuras and carved pillars attract visitors
The mandapas depict mythological stories through intricate carvings including avatars of Lord Vishnu. Impressive additions were made during the Vijayanagara Empire, such as the Thiruvaimooli Mandapam.
The temple is known as Kairavani surrounded by the five sacred shrines of Indra, Soma, Agni, Meena and Vishnu. Krishna is in the shrine with his wife Rukmani, brother Balarama, son Pradyumna, grandsons Aniruddha and Satyaki.
The thousand-year-old complex includes a 36-pillared mandapam and the Tiruvoimoli Prabandha Mandapam and Maha Mandapam, which reflect the art of the pre-Pallav period.
Festivals at Partha sarathy temple:
Swami Brahmotsavams are held in the Tamil month of Chaitrai (April-May).
Ayagiasingar festivals are held in the Tamil month of Ani (June-July).
Special festivals about Ramanujacharya are held in April-May.
Manavalammunigal (October-November) Special festivals are held for Alwars and Acharyas.
Vaikuntha Ekadashi, the month of Chaitra, is special here.
Devotees innumerable visit Swami during this period.
The darshan of the Swami as he moves with the two Nancharus as Utsava Murti is a delight.
During the holy days, many mythological pastimes are held in the temple mandapams.
How to Reach to ParthaSarathy Temple, Chennai
Chennai is a metropolitan and well connected to major cities in the country. And the Partha Sarathi temple is located just 4 kms away from Chennai Central Railway station, and Egmore Railway station. Near to the Temple there is a government estate Metro Station which is 26 minutes walk away. Nearest bus station is a 3 minute walk away. The temple is located 17 kms away from Chennai International Airport. 
ParthaSarathy Temple Official Website: https://parthasarathy.hrce.tn.gov.in/
ParthaSarathy Temple Chennai Location:
Arulmigu Parthasarathy Swamy Temple
2, Peyalwar Temple Street,
Triplicane, Chennai,
Chennai – 600005.
ParthaSarathy Temple triplicane contact Number : 04428447042
Parthasarathy Swamy Temple Images: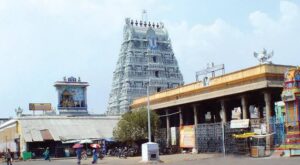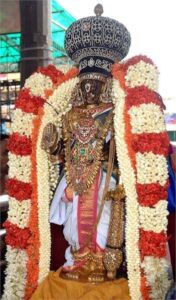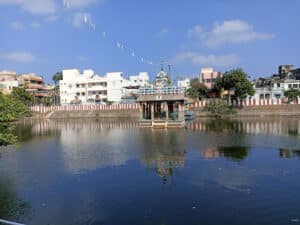 Other Famous Temples in Tamilnadu: