Hatkeshwar Mahadev Temple  Raipur
The Hatkeshwar Mahadev Temple, located 5 km from Raipur on the banks of the Kharun River in Chhattisgarh, is one of the most sacred pilgrimage sites in central India. The temple was built by Hajiraj Naik in 1402 during the reign of Brahmadev Rai, son of Ramachandra Raju of the Kalchuri dynasty.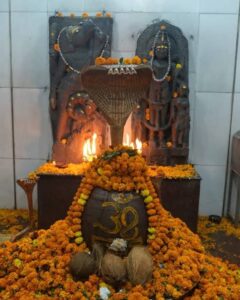 Hatkeshwar Mahadev Temple Timings
The temple opens daily at 06:00 am and closes at 10:00 pm. Devotees are welcome to visit at their convenient times. Aarti starts at 06:30 am.
Hatkeshwar Mahadev Temple History
In the 1400s, the region was ruled by Brahmadev Roy of the Kalachuri dynasty. He was the son of King Ramachandra. During his reign, Hajiraj Naik built this Shiva temple on Kharun river. The local people believe that the Shiva Lingam in the temple rose up from the earth by itself. Shivalinga is considered to have a lot of power. Mahadev is the deity revered by the Hatkeshwar Nagar Brahmins as their ancestor. Formerly resided in Vadnagar.
According to ancient religious scriptures, when Rama-Sita and Lakshman  were on their way to exile, they passed through this place. Then Lakshmana installed Lord Shiva here for worship. It is said that Lakshman  sent Hanuman to fetch Lord Shiva. Then Bajrangbali himself took him on his shoulder. But to feed a Brahmin, he took Shiva in the middle. Lakshman  got angry when Hanuman did not return. Then he established Shiva there near the river Kharun.
Hatkeshwar Mahadev Temple construction  
The way this Hatkeshwar mahadev temple was built is very beautiful. The outside of the temple is specially decorated. On the outer walls of the temple are paintings of scenes from Ramayana and Mahabharata. Apart from this, there are also many images. On the wall of the temple are sculptures of various animals, dancers and musicians. The temple complex is huge. The inner sanctum has a Shiva Lingam and can spot Lord Ram, Lakshman, Sita devi, Lord Hanuman idols on the back of Lord shiva lingam. A large peak rises into the sky from the top of the sanctum sanctorum. The temple is surrounded by a massive wall with three round gopurams. There are flat stretches between the gopurams.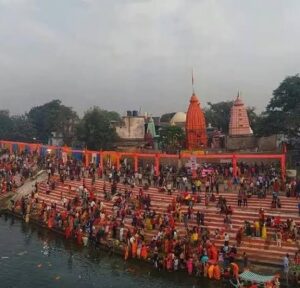 Best time to visit Hatkeshwar Mahadev Temple
This temple is a famous pilgrimage in Chhattisgarh. Located on the banks of the river, this temple is a wonderful tourist attraction. The best time to explore the temple is Shivaratri And during the festival of Holi, Majorly these festivals are celebrated here with devotion. During the Winter Season is also the best time to visit this temple.
Lakshman Jhula (Bridge)
The Chhattisgarh government has built Lakshman Jhula at Mahadev Ghat and given this temple a special identity. As soon as you leave the temple, you can see this Lakshman Jhula a few feet away. However, this Jhula is the first suspension bridge in Chhattisgarh and it was built after the Lakshman Jhula over the river Ganges in Rishikesh. Jhula's construction cost was approximately $6 million. People come from far and wide to see this Lakshman Jhula near Raipur. Hence, the number of people visiting this place is constantly increasing. If you go to Raipur from Patan Road, you will see Lakshman Jhula Mahadev Ghat on the way.
Other Temples Near Hatkeshwar Mahadev Temple
There are other important ancient temples like Kashi Visvesvara Shiva Temple, Bhuteshwar Mahadev Temple, Sri Jagannath Temple, Swaminarayan Temple as well as two Jain temples.
Hotels Near by Temple
Hotel Piccadily Raipur
Hotel Gagan Residency
Hotel Vaibhav Inn
Hotel Metro
Abhash Vaibhav Nivas
Hotel Amara
How to Reach Hatkeshwar Mahadev Temple Raipur
Bus : Chhattisgarh state buses connect Raipur with all the neighbouring cities. Chhattisgarh State Road Transport Corporation (CSRTC) provides Private travel services to Raipur.
Train : It has its own railway station known as Raipur railway station which is connected to major cities of Chhattisgarh state.
Air : It has its own domestic airport called Swami Vivekananda Airport which is 15 km from the city.
Nearby Attractions
Ambuja City Centre mall
MM Fun City
Naya Raipur Central Park
Vivekananda Sarovar
Mahant Ghasidas Memorial Museum
Hatkeshwar Mahadev Temple Location
Mhadev ghat chowk, Patan – Raipur Rd,
Raipur, Chhattisgarh – 492013, India.
Raipur Distance
Raipur is located 13 km from Baroda, 25 kms from Chhattisgarh, 40 km from Durg, 76 km from Pateva, 79 km from Bhatapara, 113 km from Bilaspur, 284 km from Jagdalpur, 301 km from Dhanpunji. 
Hatkeshwar Mahadev Temple Photos: