Omkareshwar  Jyotirlinga Temple:
Omkareshwar is located in Khandwa district of Madhya Pradesh. It is also known as Omkareswar and Amaleswar. Omkareshwar Jyotirlinga temple can be reached by boats on Narmada River.
The letter Om has a special place in Hinduism. It is said that the whole world is formed from this letter Om. That is why the letter Om is considered to be the most sacred. Similarly, in Hindu worship, the first letter Om is uttered. This field is seen in the shape of Om when seen from the sky. Moreover, Hindu mythology says that God appeared here before the creation of this universe. They consider this shrine to be the holiest place in the world.
Omkareshwar Jyotirlinga Temple Timings:
Omkareshwar Temple opens at 05:00 AM and closes at 09:30 PM.
Omkareshwar Jyotirlinga Pooja Timings:
Mangala Aarti is held from 5:00 am to 5:30 am
Jalabhishekam will be held from 5:30 AM to 12:25 PM. The sanctum is closed from 3:50 PM to 4:15 PM.
Evening darshan starts at 4:15 PM and evening aarti is performed from 8:20 PM to 9:05 PM.
Special darshan is available for disabled or people who cannot stand normal darshan.
Omkareshwara Puja
Parthiv Shivling Pooja – This pooja is done on only request by devotees. 1008 Shiva Lingas are made of clay or wood and are anointed by you or on your behalf. It is believed that performing this pooja will remove the Grahadosa in your horoscope. It is also done to cure diseases, accidental injuries and misfortunes.
Maha Rudrabhishekam – This abhishekam is performed by reciting Rigveda, Samveda, Yajur Veda and Atharvaveda in front of the Linga.
Laghu Rudrabhishekam – Performing this puja is believed to overcome health and wealth related problems.
Narmada Aarti – Every evening the Maha Aarti takes place on the banks of Narmada river which is amazing to watch. Many lamps are lit and released in the river Narmada in the hope of achieving health and happiness.
Omkareshwar darshan booking : People can book tickets for darshan through official website
Omkareshwar Jyotirlinga Temple History:
At one point Narada Maharshi came to this place to worship Lord Shiva in Gokarna . Then the Vindhyaparvatam like here enters into an argument with Narada. He says that there is no mountain greater than him in this world. It proudly says that it has more gems than any other mountain. Then Narada says that you are not greater than that Meru mountain. He reminds us that the peak of Meru mountain extends up to heaven. Ashamed by this, the Vindya Parvata does severe penance for Lord Shiva. He prays to rise higher than Mount Meru. Moreover, the Vindhya Parvatham begs Lord Shiva to keep you above him forever. Lord Bola Shankara agreed to this and became known as Om Kareshwar on Vindhya Parvat. Meanwhile Vidya Parvatam is higher than Meru Parvatam, so it obstructs the movement of the sun. As a result, the whole of North India will become dark. All creatures are frightened by this size. With this, Saints asked God to save them.
Hearing their cries, the Supreme Lord said that only Agastyamaha, the Guru of Vindhyaparvatam, could make that mountain proud. With this, ordinary humans along with saints once again begged Agastya. As a result, he could not leave Shiva in Kashi in North India and reluctantly travelled to South India. Then when Agastyu came to this Omkara Kshetram, Vindya mountain bowed down to see his guru.With this, Agastya quickly crossed the region and told him to keep the bowed head till he came, and went towards the southern country and never came back. It is said that the Vindhya Parvata is here with its head bowed. And the temple in Omkareshwar on top of Vindya Parvata is on the fourth floor. On the first floor is Omkareshwar, while on the floor above him is Maha Kaleshwar. There are many sub temples on the third and fourth floor. There is a small gap in the middle of the Omkareshwar Jyotirlinga here. As soon as we anoint the Shivalinga, the anointing water goes through the gap and joins the Narmada river. That is why Narmada is known as the most sacred river for Hindus. Meanwhile, most of the rivers in India flow eastwards and join the Bay of Bengal, while the Narmada flows westwards and joins the Arabian Sea.
Opposite Omkareswar  Lingam is Amaleswara Linga. The Sahasra Shivling Puja held here is very special. Devotees can perform this pooja directly. Therefore, it is believed that the entire result of the puja belongs to the devotees. It was in Omkareshwar that jagathguru Adisankaracharya wrote the commentary on the Upanishads. Devotees believe that if they visit the Shivling in the Gauri Somanatha Mandir here, there will be no rebirth. Moreover, it is said that the secrets of the birth of future generations will also be known.
How to Reach Omkareshwar Temple MP:
Closest to Omkareshwar, 77 Kms is Indore Airport. Similarly, there are government private bus services from Ujjain, Indore and Khandwa. Travel time from Khandwa to Omkareshwar is around 2.30 hours.
Omkareshwar has its own railway station called Omkareshwar Railway Station at a distance of 12 km from Omkareshwar city. It is on the main Ratlam-Khandwa railway line and is connected to cities like New Delhi, Bangalore, Mysore, Lucknow, Chennai, Kanyakumari, Puri, Ahmedabad, Jaipur and Ratlam.
Omkareshwar Jyotirlinga Location:
Omkareshwar Jyotirlinga, Markandeya Ashram Rd, 
Omkareshwar, Khandwa, Madhya Pradesh 450554.
Omkareshwar to mahakaleshwar distance – 3 hr 41 min (139.6 km) via NH 347BG
Omkareshwar Jyotirlinga Temple Official Website: https://shriomkareshwar.org/
Omkareshwar Jyotirlinga Images: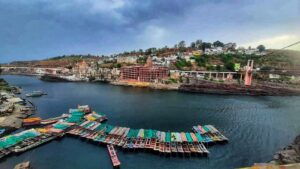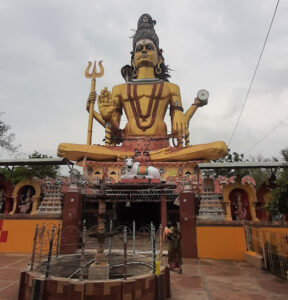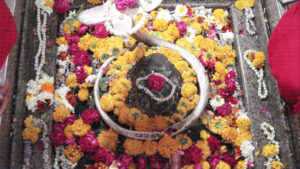 FAQS:
What is the Omkareshwar Jyotirlinga Temple?
Omkareshwar Jyotirlinga Temple is a Hindu temple dedicated to Lord Shiva and one of the twelve Jyotirlingas. It is located in the town of Omkareshwar in Madhya Pradesh, India.
What is the significance of the Omkareshwar Jyotirlinga Temple?
The Omkareshwar Jyotirlinga Temple is believed to be one of the most sacred places for Hindus as it is one of the twelve Jyotirlingas that are believed to represent the divine manifestation of Lord Shiva.
What is the architecture of the Omkareshwar Jyotirlinga Temple?
The Omkareshwar Jyotirlinga Temple is built in the Nagara style of architecture and is surrounded by five smaller temples. The temple has a shikara or spire that rises to a height of 65 feet.
What are the timings for the Omkareshwar Jyotirlinga Temple?
The Omkareshwar Jyotirlinga Temple is open for devotees from 5 am to 9 pm every day.
What are the rituals and poojas performed at the Omkareshwar Jyotirlinga Temple?
The temple conducts various poojas and rituals throughout the day, including morning and evening aarti, Rudrabhishek, Mahamrityunjay mantra jaap, and other special poojas on festivals and auspicious occasions.
What is the best time to visit the Omkareshwar Jyotirlinga Temple?
The best time to visit the Omkareshwar Jyotirlinga Temple is between October and March when the weather is pleasant and the temple is less crowded.
Is there any accommodation available near the Omkareshwar Jyotirlinga Temple?
Yes, there are several options for accommodation near the Omkareshwar Jyotirlinga Temple, including guest houses, dharamshalas, and hotels. Some of the popular ones include Omkareshwar Hotels and Resort, Shri Radha Krishna Guest House, and Keshar Guest House.
What are the nearby tourist attractions?
Some of the nearby tourist attractions include the Kedareshwar Temple, Siddhanath Temple, and the Satmatrika Temples. The town of Maheshwar, known for its handloom sarees, is also located nearby.
Other Famous Temples in Madhya Pradesh
12 Jyotirlinga | Story | Temples | Name | List | Place | Address | Images
Grishneshwar Temple | Grishneshwar Jyotirlinga – History, Timings, Dress Code
Nageshwar Jyotirlinga – Nageshwar Temple – Dwaraka, History, Timings, Location