Balkeshwar Mahadev Mandir – Agra
Balkeshwar Mahadev Mandir is dedicated to Lord Shiva and is located in Balkeshwar Colony, Agra. The temple on the banks of the river Yamuna was poisoned. It is one of the earliest temples in Agra and is a major attraction for local people who come to visit Agra as well as tourists from all over the country. Balkeshwar Mahadev Temple holds faith in the mind of every devotee.
Festivals and Rituals at Balkeshwar Mahadev Mandir
In Agra, there are four most legendary temples of Lord Shiva at four locations in the city and Balkeshwar Mahadev Temple is one of the four. In this temple, prayers and other religious activities like 'Aarti' are performed daily. However, the most colourful events and celebrations in this temple take place during Shivaratri. At that time, the Shiva Lingam inside the temple is decorated with a sacred material called 'Rudraksha'.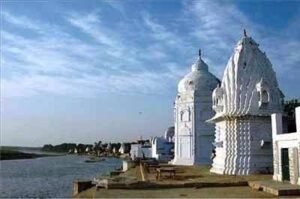 The other important festival in Balkeshwar Mahadev Temple is the Bateshwar Fair(Jatara). The origin of this fair is religious, with immense importance for Hindu pilgrims. Apart from that. Balkeshwar Mahadev Temple also celebrates festivals like Kailash Fair, Ram Barat, Heathla Fair, Taj Mahotsav and Shetia Fair. On these occasions, the temple premises and public spaces are converted into fair grounds, decorated with various items and bustling with many activities. A large number of people gather during these festivals and various stalls are set up during that time. Moreover, visual pleasure is also observed through great satisfaction in these festivals.
Balkeshwar Mahadev Temple History
Balkeshwar Mahadev Temple is one of the holiest places in Agra. Puranas describe that Lord Shiva himself appeared in the Balkeshwar Mahadev temple in the form of a stone lingam. This temple is located in Balkeshwar ghat on the banks of river Yamuna. The Shiva Lingam in this temple is believed to be around 700 years old. Bailpatter leaves are loved by Lord Shiva, so Bailpatter leaves are offered on the Shiva Lingam in this temple. This Shiva temple is spread over an area of ​​one acre.
It has a Shiva and Parvati temple. According to legend, the construction of this temple was started in 1994 on the auspicious day of Shivaratri. The day Lord Shiva married Goddess Parvati. This special day is also known as the 'great night of Shiva'. According to the Hindu calendar, Shivaratri is celebrated on the 14th day of 'Krishna Paksha'. It is a combination of Lord Shiva and highlights his power.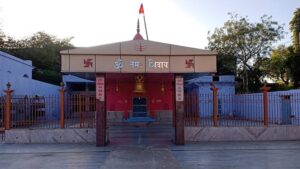 Balkeshwar Mahadev Mandir Timings
Balkeshwar mahadev Mandir timings are that this temple opens at 05:00 am and closes at 10:00 pm. Darshan timings for devotees are from morning 06:00 to 12:30 pm. And again Evening 04:30 to 10:00 pm. Darshan timings might be changed on festivals and special days.
Nearby Tourist Places
After the pilgrimage tour of Balkeshwar Mandir there are many tourist places that tourists visit. Tourist attractions near the temple:
Akbar's Tomb
Sheesh Mahal
Jama Masjid
Agra Fort
Taj Mahal
Sheesh Mahal
Mariam Zamani Samadhi
Mankameswara Temple
Hotels near Balkeshwar mahadev temple
PL palace
Hotel Alleviate
Hotel Shree Residency
Dayal Lodge
The Grand Imperial
Balkeshwar Mahadev Mandir Location
Balkeswar Ghat Wasan, Kailash Nagar,
Rajwara, Kamla Nagar, Agra,
Uttar Pradesh – 282004 , India.
Balkeshwar Mahadev Mandir Photos: