Betalbatim Beach Goa
Betalbatim Beach in South Goa is mesmerising with its golden sands. This small beach area is sandwiched between Colva Beach and Majorda Beach. Unlike other beaches in Goa, Betalbatim beach is very pristine and still untouched by beach lovers.
It is about 1 km long and offers spectacular views of sunrise and sunset. The northern part of this beach is often called Sunset Beach for obvious reasons.
The most fascinating aspect of visiting this exotic beach is the dolphins. All you have to do is request the local fishermen to take you to a dolphin spot to experience this. This is an adventure that even the best beaches in Goa fail to offer you.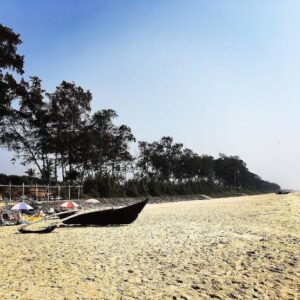 Watersports at Betalbatim Beach
Water Skiing: Water Skiing is One of the most popular water sports in Goa. Water skiing sport price usually starts from INR 1500 per person.
Windsurfing: The starting package ranges between INR 800 and INR 2,000.
Parasailing : This is an adventurous way to have a bird's-eye view of the entire coastline of Betalbatim Beach. The price of these water sports starts from 500 rupees.
Shacks at Betalbatim Beach
Sea Waves Beach Shock, Magica Beach Shack, Baggie's Beach Shack. These are the famous three beach shacks at the southern end of Betalbatim beach. Family run places serving fresh and delicious food. There are also sun beds with umbrellas to enjoy Great views of the ocean. Average cost per person is between INR800 to INR 1500 on these Shacks.
Resorts in Betalbatim Beach
Good accommodation and developed tourism infrastructure in Betalbatim beach. There are hotels, resorts, guest houses and some home stays are available near Betalbatim Beach. Some of the largest properties include Nanu Resort, Beleza by the Beach, Coconut Grove, Martin's Comfort, Alagoa Resort, Sunset Meadows and Sterling also available here.
Best time to visit Betalbatim Beach
From the Month of November to February is the best time to visit this Betalbatim Beach in Goa. As it is winter in Goa during these months, the weather is very pleasant. Winters in Goa are not cold, so the temperature ranges between 32 degrees Celsius and 24 degrees Celsius.
Specialty of Betalbatim Beach
This beach is known as the glowing beach of Goa due to the presence of bioluminescent algae in the water that illuminates the coastline at night. Off Betalbatim Beach there are bioluminescent plankton in the water so some nights the sea glows in the dark. You may suddenly notice bright lights on the waves, but this is not a reflection of the moon. People travel long distances to see these amazing sights. It is a natural sight.
Betalbatim Beach Nightlife
Here are some of the clubs and bars you should visit if you want to enjoy some of the best nightlife at Betalbatim Beach.
Mickey's Colva
Jimson's Restaurant & bar
Club Sunshine
Fishka Bar & Restaurant
Betalbatim Beach Location
Betalbatim beach,
between Colwa and Majorda beaches,
South Goa, Goa – 403713
Betalbatim BeachTimings
Betalbatim Beach is available 24 hours for Visitors. But there is no entry into the Beach at night time.
How to Reach Betalbatim beach
By Air : Dabolim International Airport is 17.6 km away from Betalbatim beach. The airport is connected with several domestic and international flights
By Rail : Seraulim is the nearest railway station to Betalbatim Beach. It is located at a distance of 7.1 kilometres away from Beach by Dabolim-Kavelosim road. Margao Railway Station is at a distance of 9.9 km.
By Road : Margo city centre is 10.7 km from Batelbatim and Vasco da Gama is 18.5 km away, both are connected by the Colva Beach Road. Colva Beach is very close – just 4 km from Betalbatim Beach.
From Panjim: Panjim is 32 kms from Betalbatim Beach. It takes around 40 minutes of time to reach this Betalbatim beach from the main city of Panjim. By hiring Taxi Or Cabs it is the best way to reach Betalbatim Beach. This taxi fare starts from INR 1000 to INR 1200.
From Goa International Airport: The distance between the airport and the beach is 22 km (approx). The cover time between the two places is about 35 minutes. The easiest way to reach Betalbatim Beach is by hired taxi or hired private service vehicles. It costs around INR 1000 to reach this beach from the  Goa airport.
Places to visit around Betalbatim Beach:
Colva Beach
Our Lady of Remedios Church
Vasco da Gama
Rachol Seminary
George Barreto Park
St. Andrew's Church
Ashwek Vintage World Car Museum
Japanese garden
Betalbatim Beach Photos: