Bhuleshwar Temple
Bhuleshwar is a Hindu temple dedicated to Shiva that is located in Maharashtra, India, around 10 kilometres from Yawat and 45 kilometres from Pune. The Bhuleshwar temple was constructed in the eighth century and is perched on a hill. The walls are decorated with classical carvings. It has received the designation of protected monument.
Bhuleshwar Temple History
The Bhuleshwar Mandir is also well-known for the local lore that states that when a dish of candy is offered to the Shiva Ling, some of the treats vanish. Milind Gunaji, an actor and travel writer, discusses this in his book Mystical, Magical Maharashtra. Female versions of Lord Ganesha, Shiva, and Kartikeya
The temple also houses an image of Ganesha dressed as a woman. Popular names for it include Ganeshyani, Lambodari, and Ganeshwari. King Krishnadevaraya is claimed to have erected this temple in the 1200s.
Bhuleshwar temple steps:
It is located in the Malshiras village near Yavat, on a tiny mountain along the Pune-Solapur route. You may reach Bhuleshwar Temple Malshiras after a climb up about 200 stairs and a drive through the Western Ghats' twisting roads.
Construction:
Panch Pandava is credited with building the temple in Hindu mythology. Beside the Bhuleshwar temple in Bhatgaon, there is yet another temple dedicated to King Bharata. The Bhuleshwar Temple's Jirnodhar was completed in 1230 AD, during the Yadava Rulers. The Daulatmangal fort, sometimes referred to as Mangalgad, is the fort atop which the temple is located. This temple was built using black basalt (AA type) rock, which is unique compared to the nearby brownish-coloured basalt that has a high amount of calcium (lime – Chuna).Adilshahi general Murar Jagdev Pandit, who looted Pune in 1630, built the fort in 1629. To keep an eye on the city, he subsequently built the fort. This place's light arrangement is an intriguing phenomenon, especially for photographers and artists. It is made up of an aisle with Devkulikas—cells constructed for several other deities—on one side and ornate scriptures on the surrounding walls of the Garbhagriha and Antarala on the other. These ancient temples are visited by many tourists.During the summer, a large number of birds travel between this area and Narayanbet, which is fifteen kilometres away. Because of this, numerous bird watchers travel to the location.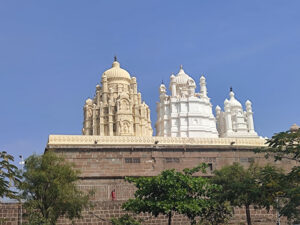 Bhuleshwar temple timings: 05.00 am – 9.00 pm
Daily Timings:
Mon: 4:00 am – 9:00 pm
Tue: 5:00 am – 8:00 pm
Wed: 5:00 am – 8:00 pm
Thu: 5:00 am – 8:00 pm
Fri: 5:00 am – 8:00 pm
Sat: 5:00 am – 8:00 pm
Sun: 4:00 am – 8:30 pm
Bhuleshwar Temple Location:
Bhuleshwar Road, Malshiras, Maharashtra – 412104, India
Bhuleshwar Temple Pune Distance:
bhuleshwar temple to pune distance : 1 hr 31 min (54.3 km) via Pune – Solapur Road/Solapur – Pune Highway
bhuleshwar temple to jejuri distance: 
41 min (31.6 km) via Malshiras Road and Mumbai – Pandharpur Rd/​Pune – Pandharpur Road
How To Reach Bhuleshwar Temple
Just 10 kilometres into a detour at the village of Yavat on the Pune-Solapur route, one can reach the Bhuleshwar temple by car. Tourists typically use cabs and private vehicles to travel through the highway to get here. There are private buses that travel to Yavat from the Swargate bus terminal in Pune.
Bhuleshwar Temple Images: