Kaal Bhairav Temple – Varanasi (Kashi) 
Kaal Bhairav Temple is considered to be one of the oldest temples in Varanasi. It is located near Vischer Ganj in Varanasi, Uttar Pradesh. Kaal Bhairav ​​Mandir is dedicated to Lord Kala Bhairav ​​also known as 'Kotwal of Sati Pind'. It is believed that no person can touch the Sati Pinda without the approval of Lord Kalabhairava. It is an important temple in Varanasi and is revered by those who lived under its guidance.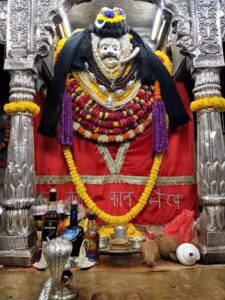 Architecture of the Kaal bhairav Temple
Kaal bhairav temple has an interesting architectural style among other temples in Varanasi. In the centre of the courtyard is the main temple of Kalabhairava. The idol of Kala Bhairav ​​has a silver coloured face. This statue has a trident. The idol of Kala Bhairava seated on his vahana (vehicle). Kalabhairava is the fierce form of Lord Shiva and wears a garland of skulls on the neck and holds peacock feathers. Through the gate visitors can see only the face of the icon decorated (with garlands). The rest of the symbol is covered with a piece of cloth. On the back gate of the temple, there is an idol of another aspect of Kalabhairava. The present structure is estimated to have been built in the mid 17th century AD. It resulted in the destruction of many shrines as a result of the Islamist conquest of northern India.
Kotwal
Kala Bhairav ​​is believed to be the Kotwal (Chief Police Officer) of Varanasi. Everyone who wanted to live in Varanasi had to take his permission to live in the city. He is also believed to be the Kotwal of "Sati Pind" and without his permission, no one cannot touch the "Sati Pind". Kalabhairava protects the devotees from all problems.
History of the Kaal bhairav Temple Varanasi
According to Hindu mythology, once upon a time a great saint went to Mount Sumeru to find out who was eternal and possessed ultimate power. To this question, Lord Brahma replied that He is the Supreme Power. Vishnu objected to this statement and the two went to the four Vedas to seek an answer. However, the four Vedas affirm Shiva as the supreme power in various forms. At this affirmation of the Vedas, Lord Brahma and Lord Vishnu both laughed and immediately Lord Shiva appeared near them in a mighty divine effulgence. Then Lord Brahma saw that brilliance with his 5th head and burst into anger, Shiva immediately made a new form Kala Bhairav, who is also known as the ruler of Kala. Kala Bhairava got angry and cut off the 5th head of Lord Brahma. Meanwhile, Lord Shiva also mentions that Kalabhairava stays in Kashi to wash away the sins of his followers.
Lord Kala Bhairava went to many places where another Brahma Hathya created by Shiva tracked him at each place. However, when Kalabhairava entered Kashi, the killing of Brahma disappeared. In Kashi, the 5th head of Lord Brahma placed by Kala Bhairava fell on the ground and since then the place became known as Kapal Mochan Theertha. From that day onwards, Kalabhairava is believed to stay in Kashi and protect every devotee who has problems in life.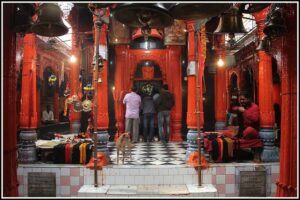 Kalabhairav Temple Festivals at Varanasi
Bhairava Ashtami and Shivratri are the most important festivals in Bhairava temple. Bhairava-Ashtami The darshan of Kala Bhairava is celebrated on Krishna Paksha Ashtami in the month of Margashirsha (December-January). The temple is crowded during this festival. Shivaratri also sees huge crowds and lavish decorations. Annakuta festival is also celebrated in Kala Bhairava temple.
Kalabhairav Temple Varanasi Timings
Varanasi Kala Bhairava Temple is open from 05:00 AM to 01:30 PM and then from 04:30 PM to 09:30 PM. On Sunday's and Tuesday's temple is open from 04:00 AM to 01:30 PM and then from 03:00 PM to 11:00 PM.
Kalabhairav Temple Address
Pandeypur Road, Naibasti,
Varanasi, Uttar Pradesh – 221002.
How to Reach Kaal Bhairav Temple Varanasi
Nearest Railway Station: Varanasi Junction is the Nearest Railway station to the Kalabhairav temple which is located at 3.9 km away. And other nearest stations are Mughalsarai Junction – 15.2 km, Madudih Railway Station – 6.6 Km
Nearest Airport: Lal Bahadur Shastri International Airport is the Nearest Airport which is located at just 23.7kms away from the temple.
Nearest Bus Stand: Varanasi Bus Stand is about 3.4 km from Kala Bhairava Temple.
Other Attractions nearby Kalabhairav temple
Kashi vishwanath temple
Visalakshi Devi temple
Sankat mochan hanuman temple
Tulsi manasa mandir
Kashi Fort
Banaras
Accommodation in Varanasi
Elvis Guest house
Sri Krishna Dharmasala trust
Shiva ganga guesthouse
DS Residency
Kashi Annapurna guesthouse
Kaal Bhairav Mandir Varanasi photos