Uttara Swami Malai Temple/ Malai Mandir – New Delhi
Uttara Swami Malai Temple is also popularly known as Malai Mandir and is dedicated to Lord Swaminatha (Lord Subramanya). It is located at Palam Marg, RK Puram, New Delhi. This Malai Mandir is primarily worshipped by Hindus belonging to the Tamil, Telugu, Malayalam and Kannada religions of Delhi. Devotees of Swaminatha Swamy can be observed celebrating many festivals and events in the temple.
This temple is usually located on a small hill in Sector-7. Outside the main temple there is a signboard written in Tamil that refers to Swaminatha's motto "Yamirukka Bayamen", meaning 'Why fear when I am there'. There are approx 115 steps to reach the Swaminathan temple. The peacock is adopted by the temple because in Hinduism the peacock is considered as the vehicle of Swaminatha swamy (Murugan).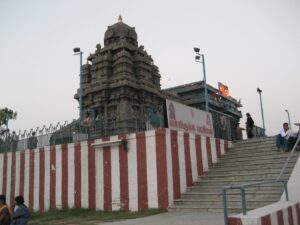 Malai Mandir Pooja Timings
Summer Time : 1st March to 30th November 05:30 AM to 12:00 PM and 05:00 PM to 09:00 PM
Winter Time: 1st December to 28th February 07:00 AM to 12:00 PM and 04:00 PM to 08:00 PM
Malai Mandir aarti Timings
Vinayakar Abhishekam at 08:00 am
Sundareswarar Abhishekam at 08:30 am
Devi Meenakshi Abhishekam at 08:45 am
Swaminathan Abhishekam at 09:00 am
Navagrah Abhishekam at 10:00 am
Vinayakar  Abhishekam at 05:45 pm
Sundareswarar Abhishekam at 06:00 pm
Devi Meenakshi Abhishekam at 06:15 pm
Swaminathan Abhishekam at 06:30 pm
Malai Mandir Website: http://malaimandir.org.in/
Architecture of the Uttara Swami Malai Temple
The Malai Mandir, situated on a small hillock, is built entirely of granite in the South Indian style of architecture. A visit to this place can reminisce about the Chola period architecture, which gives tourists a chance to relive the history. Beautiful images of various deities can be seen on the walls of the temple. Last but not least, on the right side of the temple, there is a place where cultural events are held.
Malai Mandir History:
The temple is situated on a small hill. Apart from the main temple, the temple also houses Sri Karpaga Vinayakar, Sri Sundareshwar, Devi Meenakshi, Navagraha Sannidhi, Sri Idumban Sannidhi, Sri Adi Sankara Hall and Shilpa Kala Mandapam. The foundation stone of this temple was laid on September 8, 1965 by the then Chief Minister of Tamil Nadu Shri M. Bhaktavatsalam. The Mahakumbh Abhishekam program of the main temple, Sri Swaminatha Swamy Temple, was organised on June 7, 1973.
Maha Kumbhabhishek Utsav of Sri Karpaga Vinayaka, Sri Sundareshwar and Devi Meenakshi Temples was held on 13 June 1990. On the other hand, on 9 July 1995, along with the Navagraha Sannidhi, the Idumban Sannidhi was consecrated. The inauguration ceremony of Sri Adisankara Mandira was held on 9th November 1997. 27 June 2001 can be seen as the third restoration, Ashta Bandhana, Swarna Rajatabandhana Maha Kumbhabhishekam. It can be seen that the year 2007 was very special in the history of the temple. A ceremony called Eka Koti Archana is held in the temple, which is usually performed with great devotion. For 120 days, 12 Sivacharyas performed Namasmaran of Swaminatha Swami harmoniously. The main purpose of this program is to benefit not only the participating devotees but also the entire country. It is often believed that after the successful completion of Eka Koti Archanas, the sanctity as well as the respect of the temple increases to a great extent.
Festivals at the Temple
Skanda Sashti, Kritika Nakshtra pooja, Kali Puja, Jagaddhatri Puja, Saraswati Puja, Maha Shivratri, Vinayaka Chaturdhi these are the main festivals celebrated at this Malai Mandir.
Malai Mandir Location
Palam Marg, Sector 7,
Rama Krishna Puram, New Delhi,
Delhi – 110022, India.
Malai Mandir Contact Number – +91-11-26175104
Nearby attractions
After visiting the Malai Mandir, one can explore other nearby tourist attractions. Some of them are mentioned below.
National Rail Museum
Deer Park
Delhi Hut
Sarojini Nagar
Satya Niketan
Hauz Khas village
Qutub Minar
How to Reach Malai Mandir
By Metro : The Vasanth Vihar is the nearest Metro Station to Malai Mandir in Delhi which is just 2km away from the temple.
By Flight : The nearest airport from this temple is Delhi airport. Indira Gandhi International Airport is Located at 5.5 kms away from the Malai temple. From here you can easily reach this temple by using local transport services or cabs.
By Train : New Delhi Railway Station is located 13 km away from the temple.
By Road: Roads to this temple are well connected with the other areas of Delhi. 
Malai Mandir Photos: