Mangeshi Temple:
Goa's Mangeshi Village in the Ponda taluk's Priol is home to the Shri Manguesh temple. It lies 1 kilometre from Mardol, which is near Nagueshi, 21 km from Panaji, the Goan capital, and 26 km from Margao.
The family god of Goud Saraswat Brahman is Shri Mangueshi. The spiritual leader of Shri Manguesh Saunsthan, Mangueshi, is Shrimad Swamiji of Shri Kavale Math. One of Goa's biggest and most popular temples, this one is huge. A dress requirement for visitors to the temple was implemented in 2011 along with similar policies in the neighbourhood.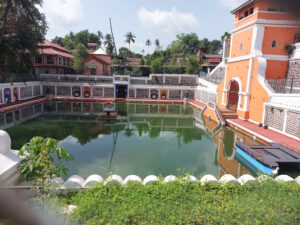 Mangeshi Temple History:
This temple was first built in Kushasthali Cortalim, a village in Mormugao that was conquered by the Portuguese invading army in 1543. In the year 1560, when the Portuguese started Christian conversions in mormugao taluka, the Saraswats of Kaundinya Gotra and Vatsa Gotra moved the Mangesh Linga from the original site at the Kushasthali or Cortalim on the banks of river Aghanashini to its present location at Mangeshi in Priol village of Atrunja Taluka, which was then ruled by the Hindu kings of Sonde of Antruz Mahal (Ponda), to be more secure.
The temple was restored and remodelled three times after the relocation, once in 1890 and twice during the Maratha era. The temple's tallest dome underwent its final refurbishment in 1973, when a golden kalasha (holy vessel) was installed above it.
The current building was only constructed at the new location, perhaps 150 years after it had been transferred, during Maratha rule. The former site had a very modest structure. On the advice of their Sardar, Shri Ramchandra Malhar Sukhtankar, a devoted devotee of Shri Mangesh, the Peshwas gifted the village of Mangeshi to the temple in 1739. Only a few years after it was constructed, in 1763, this region also came under Portuguese control; however, by this time, the Portuguese had lost their initial religious ardour and had grown rather tolerant of various religions, so this building was left unaltered.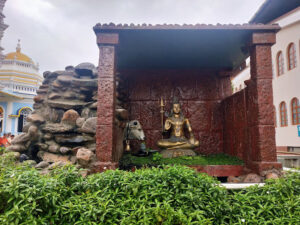 Legend of Mangeshi Temple:
According to legend, Brahma dedicated the Mangesh Linga on the Mangirish (Monger) mountain, which is located along the banks of the Bhagirathi River. The Saraswat Brahmins then transported the Mangesh Linga to Trihotrapuri in Bihar. They brought the linga to Gomantaka and made their home in Mormugao, which is now known as Kushasthali, on the bank of the Zuari River (modern day Cortalim). They built their most revered temple.
Bhagavan Manguesh, a manifestation of Shiva, is the object of devotion in the main shrine. Here, Bhagavan Mangesh is revered as a Shiva linga. The story goes that Shiva took on the form of a tiger to frighten his wife Parvati. When she first saw the tiger, Paravati called out, "Oh Lord of Mountains, save me!" (Trahi Mam girisha). She then proceeded in search of Shiva. As soon as Shiva heard the words, he transformed back into his regular persona. As "mam girisha" came to be connected with Shiva, it was eventually shortened to Manguirisha or Manguesh.
Daily Rituals at Manguesh Temple:
Like most of the temples in Goa, Mangueshi Temple hosts numerous pujas every day. Shodshopchar pooja, including Abhisheka, Laghurudra, and Maharudra, are conducted each morning. Maha-Aarti at noon and Panchopchar puja at night come after this.
Every Monday, before the evening Aarti, the Manguesh idol is brought out for a procession in the Palakhi with music.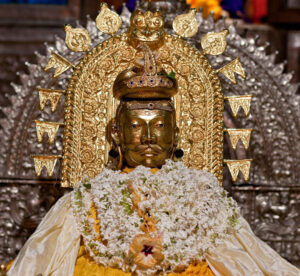 Mangeshi Temple Timings:
The temple open from 6.00 am to 10.00 pm
mangeshi temple official website – https://shrimangesh.com/
Festivals at mangeshi temple goa:
Rama Navami, Akshaya Tritiya, Anant Vritotsava, Navaratri, Dussehra, Diwali, Magha Purnima Festival (Jatrotsav), and Mahashivratri are among the annual celebrations. Magha Shukla Saptami marks the start of the festival, which lasts until Magha Poornima.
Hotels near mangeshi temple:
Treehouse Nova
The Postcard Moira
Kenilworth Resort & Spa, Goa
Hotel Surya Palace
Arco Iris Boutique Homestay
mangeshi temple goa location: Dinanath Mangeshkar Rd, Mangeshi village, Mardol, Goa 403401
mangeshi temple contact number – +91-832 234 3338, +91 832 2343904 
mangeshi temple to panjim distance – 36 min (22.6 km) via NH748
Places to visit near Mangeshi Temple Goa:
Se Cathedral, Goa

Tomb of St. Francis Xavier, Goa

Shree Shantadurga Mandir

Shri Mahalasa Narayani Temple

Shri Nageshi Temple
How to reach mangeshi temple:
By Air: In addition to chartered flights from outside, the nearest airport, Dabolim (30 km from Panaji), has regular flights from Mumbai, Chennai, Delhi, Bangalore, and Kochi.
By Rail: Several trains from throughout the nation arrive in Goa at the two railway stations in Vasco da Gama and Margao.
By Bus: Panaji and other locations in Goa have regular bus service to Old Goa.
Mangeshi Temple Goa Photos: