Neemach Mata Temple – Udaipur
The Neemach Mata Temple, located on a hill near Fateh Sagar Lake, is popularly known as the Vaishno Devi of Udaipur and holds great importance among locals and tourists alike. The temple and the stone idol are said to be associated with the neem tree, hence the name. It is believed that those who visit this temple regularly will never get skin problems due to the spiritual spirit of the tree. There is also an idol of Ganesha in the temple.
History of Neemach Mata Temple
Neemach Mata Mandir located near Fateh Sagar. It is believed to have been built in the year 1652-1680. Sri Nimcha Mata (also known as Ambaji) is also believed to be the lineage deity of the royal family of Maharani. Every year many Dokot family members gather in this special shrine along with their close relatives and friends during Haryali Amavasya to perform special pooja and other religious rituals. The temple priests are appointed by a joint committee of Dokot families. Priests are well qualified in religious matters and have vast experience in religious rituals. Open non-stop from morning to evening.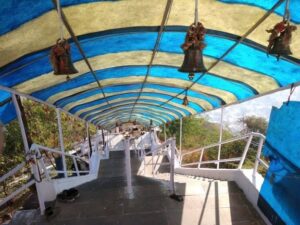 Highlights of Neemach Mata Temple
The main attraction of this temple is the stone idol of Neemach Mata Devi, which is 56 inches high and 23 inches wide. Measuring 22.1 inches and 12.1 inches wide, the temple also houses an idol of Lord Ganesha and lions on three sides. Outside the inner temple, there is the Havan Kund, where the Yojana is performed.
One has to climb 850 metres to reach Neemach Mata Temple. There are both stairs and footpaths to walk to the temple. A panoramic view of the entire city and its lakes can be seen from the temple while climbing up. The walk to the temple is pollution-free as vehicles cannot enter the outer limits of the hill. The entire route is covered with pristine mountain forests and luxuriant greenery, making the tough journey easy.
Festivals at Neemach Mata Temple
Neemach Mata Temple is famous for celebrating Hariyali Amavasya in a religious manner. On the occasion of this auspicious day, a good number of Dokot families visit this shrine to thank this deity and pray for fulfilment of personal and professional wishes and desires in life. They pray to this particular deity with great faith and devotion with complete dedication and commitment. During the festival days, especially the Puja of Neemach Mata is celebrated. During Diwali, Dasara, Chaitra and Ashwin Navratri and other festival days, bhajan singing and many other events take place here.
Nearby Attractions of Neemach Mata Temple
Popular places near Neemach Mata Temple include City Palace (5.2 km), Lake Pichola (6.4 km), Fateh Sagar Lake (3.7 km), and Sajjangarh Monsoon Palace (8.6 km).
Neemach Mata Temple Timings
Neemach Mata temple Open on all the days. Temple Opens daily in the morning at 05:00 am and Closes at 08:00 pm.
Neemach Mata Mandir Darshan Timings
Darshan Timings of Neemach Mata Temple are
Morning : 06:00 am to 10:00 am and 10:30 am to 01:30 pm.
Evening : 05:00 pm to 07:30 pm.
Neemach Mata Temple Aarti Timings:
Neemach Mata temple Aarti timings are
Morning Aarti at 05:30 am
Afternoon Aarti at 12:00 noon
Evening Aarti at 05:00 pm & 06:30 pm
Timings of Neemach Mata temple may change on some special days & festivals.
How to Reach Neemach Mata temple
By Air – The nearest airport is Maharana Pratap Airport (Udaipur) which is located 23.3 km away from the Neemach Mata temple.
By Rail – For railway passengers, Udaipur Railway Station is the nearest railway station at a distance of 2.4 km away from the temple of Neemach Mata.
By Road – Udaipur is well connected with Rajasthan and other major cities of India and many private buses and other vehicles ply directly to Udaipur.
Neemach Mata Temple Location
Fateh Sagar Rd, Shilpgram,
Udaipur, Rajasthan – 313001, India.
Note
Mobile phones are allowed to the Temple.

Cameras and video Shootings, Film Shootings are also allowed into the temple.

Only Traditional dress code is allowed.

Modern clothes are prohibited in the temple.

There are around 900 steps to climb to reach the Neemach Mata temple.
Hotels in Udaipur
Jaiwana Haveli
Trident Udaipur
Dream Heaven Haveli
The Ananta Udaipur
Shiv Nivas Palace
Hotel Mahalaxmi
Neemach Mata Temple Photos: