Ramatheertham Temple:
Ramatheertham is a village panchayat in the Andhra Pradesh province of India's Nellimarla mandal in Vizianagaram district. Ramatheertham Temple is roughly 12 kilometres from Vizianagaram city. Since the third century BCE, it has been a well-known pilgrimage and ancient historical site.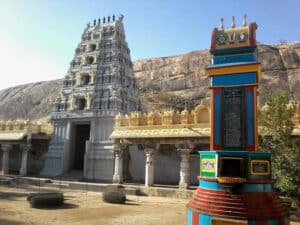 Ramatheertham Temple History:
One of the locations made sacred by a long-standing association with Lord Sree Rama is Ramatheertham. The temple, the settlement, and other locations are all in some manner connected to the name of Rama. These locations are all at the foot of a series of solid rock hills. The Jains also lived in this area, leaving behind mostly damaged brick temples and small natural caves with slab sculptures set inside of them.It is one of the rare spots in this direction where Jains' remains exist. The only mention of buried remains in this area is in Sewel's Lists, where huge piles of broken bricks and cut stones are noted on a hill that is challenging to approach. The fact that these remains were Buddhist was previously unknown. Since that time, excavations have been done and resulted in the finding of a significant part of what has obviously been a vast and important Buddhist monastery.
Bodhikonda, also known as the Black Granite Hills, are home to some Buddhist and Jain ruins. Other than that, there are two other hills called Gurabaktakonda (Gurubhakthulakonda) and Ghani konda (also called Durga Konda), on which you can find the remains of a Buddhist monastic complex from the third century BC as well as rock-cut caves with images of the Jain Tirthankara on their interior walls.
Bodhikonda
At Ramatheertham, there are three parallel lines of hills, each with a narrow valley separating it from the other two. The southernmost hill is called the Bodhikonda, and it contains Rama-related locations as well as Jaina ruins including natural caves, rock art, pictures, and a collapsed Jain brick temple to the south-west of the hill.
Durgakonda (Ghanikonda)
The Durgakonda, or northern hill, gets its name from a statue of the goddess that can be found in a natural cave at its western base. There are a few mounds in front of the cave and on the rock above it. They contain both Jaina and Buddhist ruins.
Gurabaktakonda
The destroyed Buddhist monastery is located high up on the northern side of the principal hill, the Gurabaktakonda (Gurubhakthulakonda). The hill is constructed of precipitous naked solid rock, rounded on the summit and around 500 feet in height. A destroyed brick mound and few Jaina pictures may be found next to a perennial spring that is located close to the south summit beneath a vertical rock wall. There are some brick mounds on the shady peak. A long uneven rooky platform of 903 feet in length and an average width of more than 100 feet is located on the north face of the hill at a height of roughly 400 feet above its base.The hill above it extends over its whole length in a vertical wall of rook roughly 100 feet high. Retaining walls built of stone masonry have been added to the platform's northern face to cover up natural imperfections. Throughout the whole platform is a series of brick mounds which were covered with dense jungle.
Rama Temple
It is where the renowned Ramachandra Swamy temple from antiquity is located. This temple is home to stunning silver kavacha idols of Lakshmana, Sita, and Lord Ramachandra Swamy. The area around the temple has a lovely lake. For its tranquillity, one must visit this temple. 
Festivals at Ramatheertham Temple:
Here, the festivals of Vaikuntha Ekadasi and Sri Ramanavami are observed with great fanfare. Vaikuntha Ekadasi is when Ramateertham Giripradarshana is held annually. In the temple, you may observe a lot of tortoises wandering around wearing Vishnu Namams on their backs. Moreover, Pedda Jeeyar installed a Rama Stambham.
Rama Idol Beheaded
Several unidentified individuals demolished the Srirama deity in the Kodanda Rama temple in Bodi Konda. The Idol of Rama was discovered to have been beheaded by the people on December 29, 2020.
Ramatheertham Temple Timings:
The temple open from 5.00 am – 8.00 pm
Ramatheertham Temple Location:
Ramatheertham Temple, Ramatheertham, Andhra Pradesh 535218
How to reach Ramatheertham Temple:
Via Road: Vizianagaram is a 14-kilometer drive away and is serviced by buses from all of Andhra Pradesh's main cities. 
Via Rail: Vizianagaram Railway Station, which is 14 km away, is the nearest train station. Buses are available for travel to the temple. 
Via Air: Visakhapatnam Airport, 73 kilometres away, is the closest airport. You can take a bus or a taxi to go to the temple.
Ramatheertham Temple Photos: