Sanwaliya Seth Temple – Mandafia
The Sanwaliya Seth (Sanwariya) Temple of Lord Krishna is located in the town of Mandafia (Mandpiya) on the Chittorgarh to Udaipur highway in Chittorgarh district of the Rajasthan north western state of India. It is about 40 km from Chittorgarh. The deity Lord Krishna in this shrine is known as Sanwaliya Seth or Sri Sanwariya Seth. This shrine is an ancient Hindu temple of this unique Lord and holds a very legendary mystery about its original origin. It must be remembered that it is the land of piety, duty, responsibility, valor and great sacrifices. This is the land of Mira who sang and danced in ecstatic adoration to Lord Krishna. Vaishnava Hindus' unwavering devotion and faith in the Supreme Being is perfectly represented by this unique temple.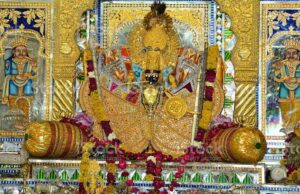 Sanwaliya Seth Temple History
Sri Sanwaliya Seth Temple is believed to be more than 350 years old and holds an important place in the hearts of devotees. According to locals, in the year 1840, a milk merchant named Bholaram Gurjar dreamed of three divine idols buried underground in Chapar village of Bhadsoda-Bagund; When the place was excavated, as revealed in the dream, three beautiful idols of Lord Krishna were found.
One of the idols was taken to Mandafia, another to Bhadsoda and the third remained at Chapar, where it was found. All three places have turned into temples. These three temples are located within 5 km from each other. Sanwaliya Ji's three temples are famous and devotees have been flocking to them ever since. Mandafia temple is known as Sanwaliya Ji Dham among these three temples.
Architecture of Sanwaliya Seth Temple 
The main entrance of the temple faces east and the main sanctum is west. In front of the main sanctum is a large hall, the ceilings and pillars of which are finely carved and decorated with images of Lord Krishna and Radha. From the northern corridor runs to the main temple and another corridor is built with small shrines along the corridors. The main gate is under construction and the entire temple is a walled complex. Its architecture and workmanship are stunning, especially the toranas and gopurams of this two-storied temple with carved ceilings.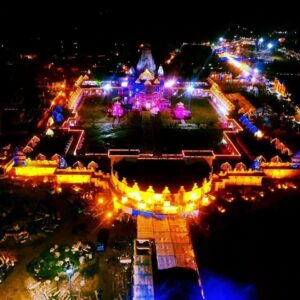 Festivals at Sanwaliya Seth Temple
The Sanwaliya Seth Temple of Krishna celebrates many festivals and auspicious days of Lord Krishna in a religious manner with great perfection. In this temple, various festivals and celebrations are perfectly organized throughout the year by Mandir Mandal. On the 11th day of Bhadra-Shukla, especially on Dev-Jhulni Ekadashi, a fair or fair is organized by the mandir mandal. It is marked by a procession of Lord's Chariot conducted by devotees and pilgrims who follow the mela. One lakh local people also actively participate in pulling the chariot with great religious zeal and enthusiasm. People visit this temple along with their family members, relatives and close friends during mela. Sri Krishna Janmastami, Holi, Deepawali festivals also celebrated in a great manner in Sanwaliya Seth temple.
Sanwaliya Seth Temple Timings
Seth Sanwaliya Ji Temple is open daily from 05:00 am to 12:00 pm and from 02:30 pm to 11:00 pm. You can visit Sanwaliya Seth anytime during this time.
Sanwaliya Seth temple Aarti timings are
Mangal Aarti : 05:30 am
Rajabhog Aarti and Prasadam : 10:00 AM to 11:15 PM
Temple Closes : 12:00 PM to 02:30 PM
Aarti, Prasad Distribution and Darshan : From 02:30 PM
Evening Aarti : 08:00 PM to 09:15 PM
Bhajan Kirtan : 09:15 PM to 11:00 PM
Sanwaliya Seth temple timings might be changed during festival days and holidays time.
There is no entry fee to visit Sanwaliya Seth temple.
Sanwariya Seth temple official website: http://shrisanwaliyaji.net/
Best time to visit Sanwaliya Seth temple
You can visit Sanwaliya Seth Temple at any time of the year, but tourists should visit Sanwaliya Seth Temple between October to March. Because this time is considered as the best time to visit Chittorgarh.
Tourist attractions near Sanwaliya Seth Temple
Vijay Stambh (Victory Tower)
Kirti Stambham (Tower of Fame)
Rana Kumbha Palace
Padmini Palace
Padmini Gardens
Kalika Mata Temple
Government Museum
Meera Bai Temple
Fort Fach Prakash Palace
Rana Sanga Market
How to reach Sanwaliya Seth Temple
By Air: The nearest airport is Udaipur Airport, which is just 65 km from Sanwaliya Seth Temple.
By Rail: The nearest railway station is Chittorgarh Railway Station which is just 30 km from Sanwaliya SethTemple.
By Road: There are several private and government vehicles available to reach Sanwaliya Temple. Rajasthan government buses are well connected to Sanwaliya Temple.
Sanwaliya Seth temple Address
Mandafia Sawaliaji,
Chittorgarh, Rajasthan – 312027
sanwariya seth temple photos: