Dakshineswar Kali Temple – West Bengal
The Dakshineswar Kali Temple is located on the eastern bank of the Hooghly River, a tributary of the Ganges, in the metropolitan city of Kolkata in West Bengal, India. It is dedicated to Kali, the Hindu goddess of destruction of evil and demons. She is worshiped under the name Bhavatharani, "She who liberates her devotees from the ocean of existence".
Architecture of Dakshineswar Kali temple
Dakshineshwar Kali is built in the traditional Bengali style of architecture with nine spires, also known as Navaratna style. The three-storied temple faces south and nine gopurams are distributed over the top two floors, which can be reached by stairs. The inner sanctum at a height of 100 feet houses an idol of Goddess Kali standing on Lord Shiva's chest. Both these idols are placed in the heart of a large lotus flower made of silver.
There are 12 shrines dedicated to Lord Shiva within the boundaries of the temple complex. These idols are placed on a thousand-leaved lotus remade of silver. These mandirs are built in Atchala style of Bengali architecture. There are also idols of Vishnu and Radha Kanta in the northeast of the temple. There are steps leading to the verandah and garbha griha.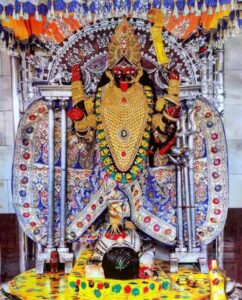 Important days in Dakshineswar Kali Temple 
Dakshineswar Kali Temple is attractive during Kali Puja. The temple is beautifully decorated with flowers and brilliant lighting. Moreover, this temple attracts a large number of devotees on Amavasya. Tuesdays and Saturdays are believed to be auspicious days for worshiping Kali mata and the main attraction in this temple is Sandhya Aarti(Evening Aarti), which is truly spectacular.
History of Dakshineswar Kali Temple 
The history of Dakshineswar Kali Temple revolves around a woman named Rani Rashmoni. It was in the year 1847 that Rani Rashmoni prepared to go to Kashi to express her devotion to the Divine Mother. As she belonged to the Shudra caste, there was a controversy that a lower caste could not own the divine temple. 
Rani Rashmoni decided to take all her relatives with her on a pilgrimage to the holy city of Kashi. Legend has it that on the previous night of the voyage, Rani Rasmoni visited the mighty Goddess Kali. She asked for her idol to be installed on the banks of the holy river Ganga and promised to manifest herself as a token of happiness from her devotee and no need to travel all the way to Kashi. She immediately started construction of the temple on an area of ​​81,000 square meters at a cost of 900 thousand rupees. It took nine years of time to complete this temple. On 31 May 1855 the statue of Kali Mata was installed and more than 1 lakh priests were invited to witness the auspicious occasion with the help of priest Ramakumar Chattopadhyay. Before his death his brother Ramakrishna Paramahamsa continued his work.
Dakshineswar Temple Official Website: http://www.dakshineswarkalitemple.org
Dakshineswar Temple Timings
Dakshineswar Kali Temple is one of the major tourist attractions in West Bengal and therefore, is open on all days of the week. 
Dakshineswar Mandir is open from October to March: 04:00 AM to 12.30 PM and 03:00 PM to 08:30 PM. 
From April to September, the temple is open from 06:00 AM to 12.30 PM and from 03:30 PM to 07:30 PM.
Aarti Timings:- 
Mangal Harati :- 04:00 AM (Summer), 05:00 AM (Winter) 
Bhog Aarti :- 12:00 noon (Summer), 12:00 noon (Winter) 
Sandhya Aarti(Evening Aarti) :- 07:00 PM (Summer),  06:30 PM(Winter) 
Dakshineswar Kali Temple Address
Dakshineshwar, Kolkata, 
West Bengal – 700076 India.
How to reach Dakshineswar Kali Temple? 
By train

–

Dakshineswar Railway station

is the nearest railway station which is located 700 meters away from the temple. From the railway station, you can take a taxi or walk to reach the temple 
Other major railway stations 
Howrah Junction (11.3 km from Temple) 
Santragachchi Junction (19.7 km from the temple) 
Bandel Junction (42.2 km from Temple)
By air

– The nearest airport to Dakshineswar Kali Temple is Kolkata (CCU). Dakshineswar Kali Temple can be reached by bus or taxi from Kolkata (CCU) via Shyambazar, Shyambazar and Tantipara. It takes around 50 minutes of time to reach the temple. 

By Metro

– Dakshineshwar is the nearest metro station to Kali Temple 
Noapara Metro Station (3 km) 
Dum Dum Metro Station (4 km) 
Belgachia Metro Station (4 km) 
Shyambazar Metro Station (4 km) 
Shobhabazar Sultanoothi ​​Metro Station (5 km)
Frequently asked questions about Dakshineshwar Kali temple
What are the entry fees of Dakshineswar Kali temple?
No Entry Fees
Which days does Dakshineswar Kali temple Open? 
       Dakshineswar Kali Temple is open on all the days from Monday to Sunday. 
What is the Dress code for Dakshineshwar Kali temple? 
     Jean's, skirts, shorts, sleeveless clothes and other modern dresses are strictly prohibited in the temple. 
Is Photography allowed in Dakshineswar Kali temple? 
      No, photography and Mobile's are not allowed in the temple. 
Nearby tourist attractions 
Apart from Dakshineswar Kali Temple, tourists can also opt for other attractive tourist attractions in Kolkata. Tourist places near the temple:
Netaji Bhavan
Victoria Memorial
national library
Rabindra Sarobar Lake
Radha Govind Temple
Kolkata Zoo and Zoological Garden 
Shaheed Minar
Birla mandir
Birla Planetarium
Indian museum. 
Dakshineswar Kali Temple Photos: