Karni Mata Temple – Deshnok, Rajasthan
Karni Mata Temple of Deshnok, also known as Madh Deshnok, is a prominent Hindu temple devoted to Karni Mata in Deshnok, Rajasthan, 30 kilometres south of Bikaner. The temple is also a popular tourist and pilgrimage destination, and is known both in India and internationally as the "Temple of Rats" due to the numerous black rats known as kaba, which are considered holy and treated with utmost care by devotees, but the temple actually belongs to the deity Karni Mata, hence the name "Karni Mata Temple." This is occasionally held up as an example of an "environmentally conscious Hindu ethos." The temple attracts visitors from all over the nation seeking blessings, as well as curious travellers from all over the world.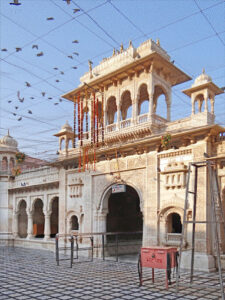 Legend of the temple
Karni Mata was an embodiment of Shakti who stayed celibate, so she married her younger sister to her husband, Depaji, to continue his line. Depaji had four boys from her, the youngest of whom was Lakshman. Karniji treated them as if they were her own offspring.
Lakshman drowned one day while bathing in a Kapil Sarovar in neighbouring Kolayat. Her younger sibling begged Karni Mata to resurrect Lakshman. As a result, Karni Mata lifted the corpse with her hands and carried it to where the murti (inner sanctum) is now, closed the doors, and instructed her followers not to open them. She went to the deity of death, Yamraj, and begged him to bring Lakshman back to life. "If so, how will the cycle of rebirth work?" asked the deity of death. What rule will it obey?" Karni Mata then announced that her family would no longer visit Yamraj. "They will live wherever I go." They will be with me when they pass."
Karni Mata then selected the embodied form of the kaba so that when human Charanas from her lineage die, they will be reborn as kaba and live near her within the sanctuary, and when kaba die, they will be reborn as human Charanas once more. In this way, Charan Avatar varies from the general understanding of Hindu rebirth in that the jati is kept across births despite being embodied in a different form.
Around 20,000 kaba live in the temple compound and are cared for by temple staff and workers who regard them as family. The kaba live and travel in various locations throughout the inner temple complex, including the main sanctuary, the kitchen, near the massive iron pots used to make halwa, various side rooms, and on the rooftop. There are various food items accessible to the kaba in each space.
Those closest to Karni Mata's murti eat the various forms of prasad given to the goddess, including laddu, nuts, coconut, and sugar crystals, as well as milk, roti, grains, fruits, vegetables, and even liquor. The kaba on the roof and near the iron pots eat primarily grains, fruits, veggies, roti, and water. As a result, the kaba of Deshnoke temple have access to a wide range of resources and are protected from predators (cats, etc.) by their human Charan relatives.
Kaba have become accustomed to human contact and touch, scurrying across and lying in devotees' laps or perching on their shoulders while sitting in the sanctuary. They eat from visitors' hands and from the same thali (plate) as the Charan kitchen employees.
Eating sustenance that the kaba has nibbled on is regarded a "high honour."According to temple regulations, if you step on one of the rats and kill it, you must replace it with a rat made of solid silver or gold.
There are a few white kaba rats among the thousands of kaba rats in the temple, which are considered particularly holy. They are thought to be manifestations of Karni Mata and her four boys. It is a special blessing to see them, and visitors go to great lengths to bring them forth, giving prasad, a sweet holy food.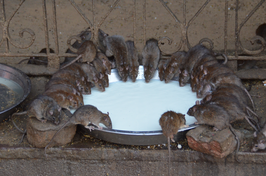 Karni Mata Temple Timings
:
The Karni Mata Temple opens to visitors at 4:00 a.m., when the temple priest performs the Mangla Aarti and then offers Bhog. The temple gates closes at 10:00 p.m. for visitors. Thousands of devotees attend the temple with enthusiasm and devotion throughout the year.
How to reach Karni Mata Temple
Karni Mata Temple in Deshnok can be reached by car, rail, or air.
If you are flying, you will need to land at the Bikaner airport and drive 30.5 kilometres south. Taxis are readily available to transport you to your location.
If you're driving, take NH 89 to get to the sanctuary.
By Train: The nearest railway station is about 30 kilometres away in Bikaner. It has excellent connections to places such as Delhi, Mumbai, Ahmedabad, Kolkata, Agra, Jaipur, and Allahabad.
Karni Mata Fair:
A newlywed bride-groom seeks blessings at the temple The Deshnok Karni Mata Fair is conducted twice a year:
The first and largest fair is conducted during the Navratri of Chaitra Shukla Ekam to Chaitra Shukla Dashmi in March-April.
The second fair, from Ashvin Shukla to Ashwin Shukla Dashmi, is conducted in September-October, also during the Navratri.
Thousands of people make the journey to the temple on foot during Navratri.
When is the best time to visit the temple?
Devotees must attend Karni Mata Temple at least twice a year, once during the month of March/April, during Navratri, and again during the month of September/October, during Navratri. Thousands of devotees visit the Karni Mata fair, which is held during these times.
Karni Mata Temple Address:
Karni Mata Mandir, Deshnok, Rajasthan 334801
Karni Mata Temple Photos: