Lotus Temple Delhi:
The Lotus Temple, also known as bahai temple is a Hindu temple in New Delhi, India. The temple is open to everyone, regardless of their faith, gender, or anything else. It is one of the seven Baha'i Houses of Worship situated across the world, and guests are permitted to sing the scriptures of whatever other faith they follow once they reach the prayer chamber of this magnificent monument. In December 1986, a Bahá'i house of worship was dedicated.It has become a popular tourist attraction in the city due to its lotus-like design. The Lotus Temple, like all Bahá'i institutions of worship, is open to all, regardless of religion or other qualifications. The structure is made up of 27 free-standing marble-clad "petals" grouped in three-petal clusters to form nine sides, with nine doors opening onto a central hall with a height of somewhat more than 34 metres and seating for 1,300 people. countless architectural accolades have been bestowed upon the Lotus Temple, and it has been featured in countless newspaper and magazine articles.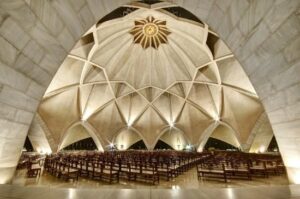 Lotus Temple History
:
Fariborz Sahba, an Iranian, designed the Lotus Temple and now lives in La Jolla, California, after spending time in Canada. He was commissioned to design the Lotus Temple in 1976 and later oversaw its construction. The structural design was completed over 18 months by the UK firm Flint and Neill, and the construction was completed at a cost of $10 million by Larsen & Toubro Limited ECC Construction Group. Ardish Rustamp of Hyderabad, Sindh (Pakistan), gave the majority of the monies required to purchase this land, stating in his will that his whole life savings would be used for this purpose. A portion of the building budget was saved and used to establish a greenhouse to research indigenous flora and flowers suitable for use on the site.
On October 19, 1977, Rhyyih Khánum laid the foundation stone for the Lotus Temple, which was dedicated on December 4, 1986. There were 8,000 Bahá from 107 countries present during the dedication, including 4,000 from 22 Indian regions. On January 1, 1987, the temple was opened to the public, and over 10,000 individuals came to see it.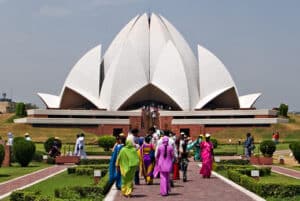 Architecture of Lotus Temple
:
Certain architectural aspects, some of which are required by Bahá'i scripture, are shared by all Bahá'i Houses of Worship, including the Lotus Temple. Abdu'l-Bahá, the religion's founder's son, wrote that Bahá buildings of worship must be nine-sided and circular. While all present Bahá Houses of Worship include domes, they are not considered fundamental architectural elements. Bahá scripture also prohibits the display of portraits, statues, or images within the House of Worship, as well as the incorporation of pulpits or altars as architectural features.
The design for the House of Worship in New Delhi is inspired by the lotus flower and consists of 27 free-standing marble-clad "petals" placed in clusters of three to form nine sides. Because the lotus is generally connected with purity, sacredness, spirituality, and knowledge, the temple's shape has symbolic and inter-religious importance. In India, it has a spiritual importance. The Lotus Temple's nine doors open onto a central hall 34.3 metres tall that can seat 1,300 people and hold up to 2,500 people in total. The temple has a 70-meter diameter.The House of Worship's surface is made of white marble from Greece's Penteli Mountain, the same marble utilised in the construction of many ancient structures (including the Parthenon and other Bahá buildings). The Lotus Temple site spans 26 acres and has nine surrounding ponds and gardens.In 2017, an educational centre adjacent to the temple was created.
The Lotus Temple New Delhi is close to Okhla NSIC, and the Kalkaji Mandir metro station is only 500 metres away. It is located near Nehru Place in the town of Bahapur in New Delhi, the National Capital Territory of Delhi.
The temple's overall electricity use is 500 kilowatts (kW), with solar panels on the building providing 120 kW.The temple saves $120,000 per month as a result of this. It is Delhi's first solar-powered temple.
The Lotus Temple Delhi, like other stone monuments in India such as the Taj Mahal, is becoming discoloured as a result of air pollution. The white marble, in particular, is turning grey and yellow as a result of pollution from vehicles and manufacturing in the city, among other sources.
With up to 100,000 visitors on some holidays, the Lotus Temple has become a popular draw for people of many religions.
Lotus Temple Delhi Timings
:
Monday  – Closed
Remaining Days:
Summer – 9:00 am – 7:00 pm
Winter : 9:00 am – 5:30 pm
Lotus Temple Delhi Ticket Price :  No entry fee 
Lotus Temple Location:
Lotus Temple Rd, Bahapur, Shambhu Dayal Bagh, 
Kalkaji, New Delhi, Delhi 110019.
How to reach Lotus Temple Delhi:
By Rail: Kalkaji Metro Station is the nearest Metro Station.
By Road: From any other tourist destination in Delhi, you can rent a taxi or an auto rickshaw.
By air: The airport is 13 km from Lotus Temple and may be reached by taxi.
Places to visit near Lotus Temple:
ISKCON Temple

Kailash Shiv Mandir

Prachin Bhairon Mandir

Kalkaji District Park

Qutub Minar

Nehru Place Market
Lotus Temple Delhi Photos: