Sri Bedi Anjaneya Swamy Temple – Tirupati
Sri Bedi Anjaneya Swamy Temple is located across the street from Lord Sri Venkateswara Swamy temple in Tirumala. This ancient sanctuary takes precedence over the Sri Bhu Varaha Swamy temple and the Lord Sri Venkateswara Swamy temple. It is brought to this shrine every day after naivedyam is offered to these deities.
Story of Bedi Anjaneya Swamy
According to legend, Lord Hanuman, when he was younger, wished to leave Tirumala in search of a camel. This compelled his mother, Anjana Devi, to cuff his wrists and order him to remain in that location until she returned. However, it is thought that Anjana Devi remained in the Akasa Ganga area and never returned. As a result, the Lord Hanuman icon in this temple will be seen in a unique shape in which both his hands are handcuffed ("Bedi-Cuffs").
Bedi Anjaneya Swamy Temple Timings
Every day from 5:30 AM to 9 PM.
Every Sunday, abhishekam is performed to this deity, with a special abhishekam made on Hanuman Jayanthi every year.
Bedi Anjaneya Swamy Address:
Tirumala, Tirupati, Andhra Pradesh – 517504
sri bedi anjaneya swamy temple photos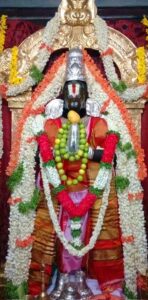 Famous Temples in Chittoor District