Vaitheeswaran Koil – Tamil Nadu
Vaitheeswaran Koil is located near Mayiladuthurai in Nagapattinam district of TamilNadu. The Vaitheeswaran Temple is believed to have been built on the spot where Lord Rama, his brother Lakshmana and the Saptarishis meditated. Vaitheswaran Koil is also known as Tirupullarukku Vellore.  Lord Shiva is worshiped as Vaitheswaran or "healing god" and it is believed that praying to Vaitheswaran cures diseases.
Like other Navagraha temples, Lord Shiva and Goddess Parvati are the main deities worshiped here as Vaidyanatha Swamy and Taiyalnayaka. There is a special shrine here for Taiyalnayake who stands with medicated oils to cure the ailments of the devotees. There is also a small shrine to Dhanvantari and Angaraka in Vaitheswaran Koil. The head of Vaitheswaran Koil, Sri Vaidyanatha Swamy, is on the west side. According to the scriptures, worshiping the Lord who is in a west facing temple gives the devotees, benefit of worshiping in 1000 Shiva temples.
History of Vaitheswaran temple
According to Vaitheswaran Kovil history, Chevvai is the son of Lord Shiva. Once when Shiva was in deep meditation, sweat from his third eye fell on the ground. From that sweat a child was born and was later called Sangaragan (Chevvai). Chevvai Bhagavan is worshiped in Vaitheeswaran Koil or Pullirukkuveluru town. Angarakan (Mars) is one of the Navagrahas of the 9 planets. One day he was suffering from leprosy. Prayed to Lord Vaidyanath in Vaitheswaran Koil. Lord Shiva blessed him and cured his ailments. So he stayed in this temple called "Vaithiveran " and cured all the diseases that prayed to him.
Thirunavukkarasar was suffering from severe stomach pain. At that time, his sister told him to pray to Lord Vaidyanath. Then he prayed to Lord Shiva and got cured. He also became a great Shiva devotee and sang many songs for Lord Shiva. Swayambhu Murti of Lord Shiva in the temple. Five Gopurams – The temple gopurams are in a straight line. Maragatha Lingam (Marakatha Lingam) is very famous. Kodimaram has two flagpoles in front of the main deity made of silver and gold. The nine planets are usually placed in different directions at the front of the sanctum sanctorum in Shiva temples.
Architecture of Vaitheeswaran Koil temple
The temple covers a total area of ​​10.7 acres and has a 5-tiered gopuram (temple gopuram) and large enclosures. In the hall, Vaitheswara is measured as Linga. The Thaiyalnayaki Sannidhi, which stands with medicated oils to cure the ailments of the devotees, is located in the second enclosure facing south. The temple also has small shrines of Murugan, Nataraja Swamy , Somaskanda, Angaraka, and Durga, Dakshinamurthy, Surya (Sun God), Jatayu, Vedas and Sampati. The temple is guarded by Bhairava in the east, Lord Veerabhadra in the west, Karpage Vinayagar in the south and Kali Mata in the north. Navagrahas are lined up and Chevvai is in two forms. The temple has several mandapas and four rajagopuram.
Festivals related to Vaitheeswaran Temple
A 10-day festival in the Tamil month, Thai (mid-January to mid-February) is widely celebrated. The 28-day "Panguni Brahmotsavam" festival attracts people from all over the world. The 6 days of "Aippasi Skanda Shashti" in October and November are also celebrated with pomp and grandeur. Anna Abhishekam in the month of Vaikasi and monthly Krittika Nakshatra days are also celebrated in the temple. Angaraka (Angaraka Puja) is performed on Tuesdays only and angaraka idol is placed in the temple corridor and it is taken in procession along with the devotees. Besides, festivals like Maha Shivratri, Diwali, Tamil New Year etc. are all celebrated with grandeur.
Vaitheeswaran Koil Timings:
Timings : Vaitheswaran Koil temple timings start from morning at 06:00 am to 11:00 am and 04:00 pm to 08:30 pm. Tuesdays are considered auspicious days for worshiping Mars here. Before visiting Vaidyanath Swamy, one should visit Lord Ganesha.
Special feature of Vaitheeswaran temple in TamilNadu
Nadi Astrology Vaitheeswaran Koil is considered as the cradle of nadi astrology or palmistry astrology. A popular form of Hindu astrology, Nadi astrology is based on the belief that the past, present and future lives of all human beings were predicted by ancient Hindu sages who used their yogic and intuitive powers to write these predictions on palm leaves. These estimates are primarily written.
Vatteluttu an ancient Tamil script, can only be understood by expert nadi astrologers. Vaitheswaran Kohl's association with astrology is more attractive than his association with Mars.
Each nadi or cluster of leaves is made up of a palm leaf, which is inscribed with a sharp, nail-like instrument called an ejutani. It is believed that the life of every human living, living and yet unborn is recorded in these palm leaves. These predictions are believed to say they have been written by a Tamil sage named Agathiyar, who is said to have divine revelations. The Nadi leaves are still preserved in the Tanjore Saraswathi Mahal Library in Tamil Nadu. The families of astrologers in Vaitheswaran Koil acquired and kept these leaves and passed them down from one generation to another to predict the future. Hence, Vaitheswaran Koil is considered as the birthplace of Nadi Astrology or the primary center of Nadi Shastra.
Medicinal Properties of Vaitheeswaran Koil Temple
The ash here is known as Tiruchandu Urundal, which acts as a medicine for skin diseases. This ash is collected from Homa Gundam. Another remedy is Chandan (mixed with sandalwood powder and saffron). As Chevvai is represented in red color, devotees should offer thur dal and red arali flowers to him during the puja.
Apart from that milagu (peppers), jaggery mixed with salt is offered in Siddhamrita to ward off diseases. Tuesdays are preferred for worshiping Mars. By worshiping Angakara here by fasting for 21 Tuesdays, the inauspicious effect of Tuesday is removed.
How to reach Vaitheswaran Temple Tamilnadu
By air – The nearest airport is at Tiruchirappalli, about 118 km from Vaitheswaran Temple. Alternatively, Pondicherry Airport is also 108 km from the town.
By train – The railway station is very close to Vaitheswaran temple. It is well connected by railways and many trains stop at this station.
By road – Local transport connects to the temple. A large number of buses, local autos and taxis are available, ensuring a seamless journey.
Vaitheeswaran Koil Temple Official Website : http://vaitheeswarankoilgurukkal.com/
Vaitheeswaran Koil Temple Location:
Vaitheeswaran Koil , Sirkazhi Taluk, Nagapattinam Dt., Tamil Nadu 609117
Vaitheeswaran Koil Temple Tamilnadu Photos: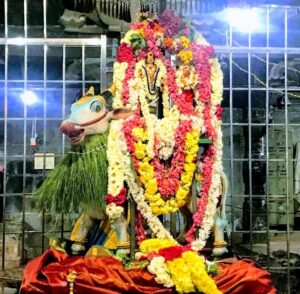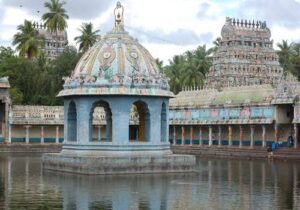 famous temples in Tamilnadu: