Kamandala Ganapathi temple – Koppa, Karnataka
Sri Kamandala Ganapathi temple is precisely located in Kesave village in Koppa taluk in the State of Karnataka in India. This temple is 1000 years old and has great historical significance. Here The presiding deity is Lord Ganesh. Lord Ganesha in this temple sits in yoga mudra and gives darshan to the devotees. During the rainy season, the water in the Pushkarini touches the feet of the Lord. At this time, they visit the Lord and take the water as Maha Tirtha Prasad. Devotees believe that taking this water will cure all diseases. Here Swami is also known as Kamandala Ganapati.
Devotees believe that drinking water here can cure many ailments. A stream of water flows there throughout the year. Brahma is a tributary of Tunga. Many pilgrims visit this temple to take pilgrimage and get rid of health problems. Let's find out where this temple is.
Sthalapuranam of Sri Kamandala Ganapathi Temple Koppa
According to the Sthala Purana of the temple, Goddess Parvati, who faced many problems due to Shani's perversity, came to this place and prayed to Ganapati before Lord Shiva. It is a local legend that the name came from. Here we can also visit the place where Goddess Parvati did penance. A Ganapati idol is prominent here. A Ganapati idol is prominent here. It is remarkable that there is an idol of Ganapati sitting in yoga mudra. It is said that the water in Pushkarini here reaches up to Ganapati's feet during monsoons.
It is said that when the water of Pushkarini touches Ganapati, all the sins committed by visiting Ganapati at that time will be removed. This pushkarini is lotus shaped. And because the water in Pushkarini touches Ganapati, this Ganapati is called Kamandala Ganapati.
Rituals of the Temple
Special Pujas to Ganapati are performed here from 07:30 am to 08:30 am. No pooja will be performed after 12:00 noon. But here in the temple of Swami, pujas are performed till afternoon, so if you want to have darshan of Lord , you reach here early in the morning and offer puja to Lord Ganesha.
Sacred Sankasthi
Lord Ganesha in this temple is worshipped everyday with sacred rituals, poojas and sanctified abhishekam. Auspicious days like Sankasthi, the day dedicated to Lord Ganesha. Amavasya is celebrated especially with maha Abhishekas on the resolution of Grahadosha on this blissful day.
Ellu Amavasya : It is said that parvati devi performed a special pooja to Lord Ganesha on 'Ellu Amavasya' which is observed on the No moon day in the Marghashira month (November- December). Hence this particular day is considered as extremely holy to all the devotees and especially for women.
Where is this temple located?
Kamandala Ganapathi Temple is located in a thick forest area about 10 km from Koppa town in Chikmagalur district.
Address : Siddaramaiah Rd, Kesave Village
Chickmangaluru district, Karnataka – 577126 
Temples near to Sri Kamandala Ganapathi temple
Shringeri Sharadamba temple
Sri Mallikarjuna Swamy temple
Veerabhadra swamy temple
Belur temple
Nearby Hotels to Sri Kamandala Ganapathi temple
Hotel O.L.V Palace – 0.7 kms from Kamandala Ganapathi temple.

Durga Lodge – 0.28 kms from Kamandala Ganapathi temple.

Ammadi Homestay – 2.65 kms from Kamandala Ganapathi temple.

TG stays Koppa – 2.19 kms from Kamandala Ganapathi temple.

Muudana Mane Homestay – 2.12 kms from Kamandala Ganapathi temple.
How to reach Kamandala Ganapathi temple Koppa
By Air : To reach Sri Kamandala Ganapathi temple the nearest airport is Kempegowda International Airport which is located 348 kms away from Kesave.
By Train : Kesave has its own Railway station from there it is easy to reach Sri Kamandala Ganapathi temple in Koppa. Autos, rickshaws, buses, are available to cover the distance.
By Road : Kesave village in Chikmagalur district is well connected to all the road service vehicles to reach Sri Kamandala ganapathi temple. 
Kamandala Ganapathi Temple Photos: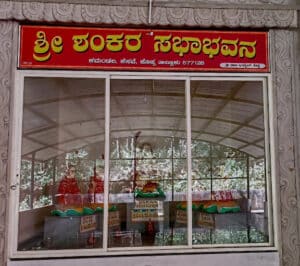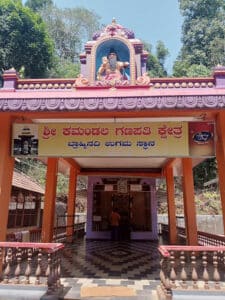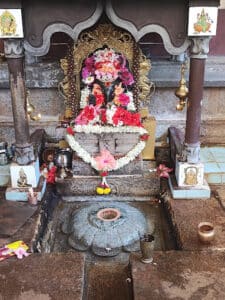 OtherFamous Temples in Karnataka: