Brahmapureeswarar Temple – Tirupattur
Brahmapureeswarar Temple is one of the rare temples dedicated to the Lord Brahma located in Tirupattur near Tiruchi in Tamil Nadu, India. While it is primarily a Shiva temple, it is also closely associated with Lord Brahma. Devotees believe that a person can change his destiny by seeking the blessings of Brahma and Siva in Brahmapureeswarar Temple, Tirupattur.
The main deities are Swayambu Lingam and Goddess Brahma in the form of Brahmapureeswarar. There is a separate shrine for Lord Brahma. Here Amma is known as 'Devi Brahma Sampat Gauri' as she has blessed Brahma. Here Brahma is in Padmasana in a lotus flower a meditative posture. Here the idol of Lord Brahma is six feet tall and decorated with Turmeric. The Tirupattur Brahma Temple complex also have houses the Jiva Samadhi of Yogi Patanjali, author of the Yoga Sutras.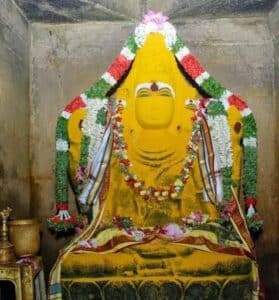 Brahmapureeswarar Temple History
At one point, Lord Brahma became proud that there is no one who is superior to him in this world because he himself is conquering this world. When Lord Shiva came to know this, he condemned the fifth head of Brahma through Veerabhadra, who was born from his element. Moreover, he curses Lord Brahma to remove the quality of creating the world.
Lord Brahma, who lost his pride, installed 12 Shivlingas where the Tirupattur Brahma Temple is now and worshiped Lord Shiva there. That is why the place where this brahma kovil tirupattur is located is called Brahmapuri. Lord Shiva, who was pleased with the worship of Lord Brahma and became pacified, appeared to Brahma along with Goddess Parvati. Moreover, he again gave Brahma the power to gather. He also tells you to visit this temple and change the inscriptions of those who have worshiped with him. Lord Shiva orders Brahma to have that letter so that they will live happily ever after. Agreeing to this, Brahma stays here and worships the idol of Brahma here. Moreover, that Lord Shiva appears here as Swayambhu. Due to this, Lord Shiva is also worshiped here.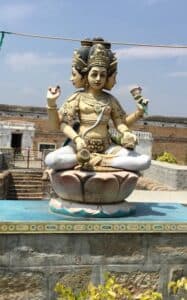 These 12 Shiva temples comprising the Brahmapuriswara temple complex are:
Shri Brahmapureeswarar
Shri Pajamalai Nathar
Shri Patala Eshwarar
Shri Tayumanavar
Shri Manduga Nathar
Shri Ekambareshwara
Shri Arunachaleswara
Shri Kailasa Nathar
Shri Jambukeshwarar
Shri Kalathi Nathar
Shri Shabdagareshwara
Shri SSudharaneshwar
Festivals at Brahmapureeswarar temple
Brahmotsavams held every year in the month of Palguni from March-April, Maha Shivaratri, Katigai, Navratri and Vinayaka Chaturthi are the major festivals celebrated here. Monday and Thursday are the most favorable days for darshan.
Brahmapureeswarar Temple Timings
Tirupattur Brahma Temple Darshan hours on Thursday 06:00 am – 12:00 pm and 04:00 pm – 08:00 pm. On Friday to Wednesday from 05:00 am – 01:00 pm and 04:00 pm – 08:00 pm.
Those who wants to perform Abhishekam for Lord has to attend before 07:00 am to the Tirupattur Brahma Temple. Abhishekam was held from 07:00 am to 08:30 am.
Hotels near Brahmapureeswarar Temple
Grande Inn
Hotel Rockfort view
Hotel Sampath
Ramyas hotel
JB Residency
Hotel Royal Sathyam
Brahmapureeswarar Temple Location
Sri Brahmapureeswarar Temple, Tirupattur
Tiruchirapalli district, 621105,
Tamil Nadu, India
The Brahma Kovil Tirupattur is 4 km from Siruganoor, 16 km from Samayapuram, 24 km from Tiruvellarai, 27 km from Tiruppainjeeli, 24 km from Siruvachur, 27 km from Srirangam and 33 km from Tirchy.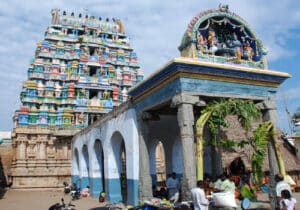 How to Reach Tirupattur Brahma Temple:
By Air: Nearest Airport is Tirchy Airport which is located at 33kms from the Temple.
By Train: The Nearest Railway station is at Tiruchirapalli is at 30kms from Tirupattur temple.
By Road :Tiruchirapalli is connected with major cities public buses are available to the  Brahmapureeswarar Temple tirupattur.