Mangala Gauri Mandir – Gaya, Bihar 
One of the Ashtadasa Maha Shakti-peeths was formed at Gaya on the banks of the river 'Phalgu' in Bihar, India as 'Mangala Gauri Mandir' or 'Sarvamangala Devi Peetha' (Benevolence to All). Many ancient Hindu scriptures like 'Padma Puranam', 'Vayu Puranam', 'Agni Puranam', 'Sri Devi Bhagwat Puranam' and 'Markandeya Puranam' are engraved with 'Mangala Gauri Temple' and it is also mentioned in tantric works. According to historical records, this temple was established in the 15th century (1459 AD).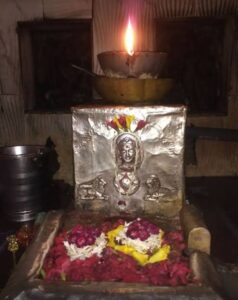 History of Mangala Gauri Mandir
Mangala Gauri Mandir is a very old temple which was built in the 15th century. You have to climb a small hill to reach the temple. The stairway is between the houses of local people. At the beginning of the stairway, there is a temple of Bhima (one of the five Pandavas). Here we can see his knee print. Here Bhima performs Shraddha Karma, hence it is called Bhimavedi Gaya.
According to the legends, there are 51 pieces of Sati Devi's body scattered all over the Indian subcontinent. These places are known as Shakti Peethas and are dedicated to various powerful deities. The body is divided into parts. Lord Shiva passed through this place on his way back to Kailasa with the dead body of Sati Devi, whose breast had fallen on the site of the modern temple of Mangala Gauri.
Architectural Significance of Mangala Gauri Temple 
It is a small brick temple, facing east and built on Mangalaguri Hill. By climbing a few steps and through motorable roads, you can reach the temple and offer your prayers. At the beginning of the stairway is a small temple of Bhima, one of the five Pandavas. His knee imprint can be seen in this temple. It is called Bhimavedi Gaya because Bhima performed his sraddhakarma at this place. In front of the main temple there is a bilva tree and a Ganesh temple. The main sanctum contains the symbol of the deity and also has some well-designed relief sculptures. Opposite the temple is a small hall or mandapam where you can conduct small functions like weddings, poojas etc. The courtyard has a fire pit where one can do homam collectively. A few other small shrines primarily dedicated to Lord Shiva can be found as well as images of Mahishasura Mardini, Durga and Dakshina Kali.
Festivals at Mangala Gauri Temple 
The famous festival of this shrine is 'Navaratri', which takes place in October. The shrine is famous for the 'posthumous ceremonies' (shraddha) of its occupants. In this temple, meditation and prayers during 'Navaratri' acquire utmost sanctity. On 'Maha-Ashtami' (eighth day), devotees flock in large numbers.
Another important festival that was celebrated in this temple is Mangala Gauri vratam(vrat), which is performed by the women for the fulfilling of their wishes. Fasting is observed on Tuesdays and women pray to the deity for a happy married life, children and prosperity. Apart from these festivals, the temple also celebrates other major Hindu festivals like Diwali, Holi and Janmashtami with great fervor.
Dress code for devotees 
This temple has a dress code that should follow. Men can wear shirt and pants, dhoti or pajama with top cloth and for women, blouse with saree or half-saree or pajama and churidar with top cloth. Modern dresses like shorts, skirts, sleeveless dresses ,and transparent clothes are prohibited in the temple. Even foreigners are not immune to this dress code.
How to reach Mangala Gauri Temple
Mangala Gauri temple is well connected by three means of communication. 
By Air: Gaya Airport is 8.7 km (5.44 mi) from the temple, while Patna Airport is 105 km (65.63 mi) from the temple. 
By Railway: Gaya Junction is the nearest railway station located at 4.83kms (3.02 miles) away from the temple. 
By Road: GT Road connects Gaya to North India. Buses, taxis and other local transports are available to reach the temple. Gaya Bus Stand is located at 4.7 km (2.94 mi) away from the temple.
Mangala Gauri Temple Timings: 
The temple is open for devotees daily from 05:00 am to 10:00 pm. Darshan timings start from morning 05:30 am to 01:00 pm. After break time, again starts from evening at 04:00 pm to 09:30 pm then temple closes at 10:00 pm 
Mangala Gauri Mandir Address: 
Mangala Gauri Mandir Road, Shakti Peetham, 
Gaya, Bihar – 823001, India.
Nearby Attractions to Mangala Gauri Temple
Vishnupad Temple 
Mahabodhi Temple 
Dukh Harni Mandir
Dungeshwari Cave Temple
Brahmayoni Hill Temple
Mangala Gauri Mandir Photos: