Chamarajeshwara Temple – Chamarajanagar:
Chamarajeshwara Temple is a historical Hindu temple located in Chamarajanagar district of Karnataka state in India. It is a famous temple for followers of Hinduism. Lord Shiva is the presiding deity and is seen in the linga type of sculpture. It is the largest Shiva temple in Chamarajanagar and famous for the Chariot festival (Rathotsavam) . The temple attracts many Hindu pilgrims on the festival of Shivaratri. It is also a great place for pilgrims and people who are passionate about art and architecture.
History of Chamarajeshwara Temple:
Mummadi Krishna Raja Wadayar built this ancient temple in 1826 AD in memory of Mummadi Krishna Raja Wadayar's father Sri Jayachamarajendra Wadiyar. After the ruler, this temple name changes to Chamarajeshwara temple. Near the resting place in front of Janana Mandapam there is a stone carved inscription which describes the history of this temple.
Architectural Significance of Chamarajeshwara Temple:
The architecture of this temple is built according to the Dravidian and Hoysala style of architecture. The temple has a large courtyard with a golden spire. This temple is similar to the Balamurali temple in Srirangapatna. The most beautiful part of this temple is that the walls are painted with famous mythological stories like Samudra Manthanam and Sreejakalyanam.
The paintings were done using crushed blue red yellow stones and diamond gums. These great paintings were made by artists of the Soma dynasty. There are idols of Shri Chamundeshwari and Kempananjamba in this temple.
The temple consists of Mukta Mandapam (open pillared hall), Nandimantapam and sanctum sanctorum. At the entrance of the temple are idols of Ganesha, Chamundeshwari and Nandi. On the top of the 5 storied Rajagopuram there are 5 golden kalasas.
Chariot Donated
In 1856, Basavaraje Arasura of Arepur in Gundlupet taluk donated a chariot to the temple. Since 1857, the chariot festival has been held in the temple. Purvashada Nakshatra falling in the month of Ashada is the birth star of Lord Chamaraja and Rathotsava is held on that Nakshatra.
Major Festivals Celebrated at Chamarajeshwara Temple:
Chamarajeshwara Rathotsavam (Chariot festival), It is believed that Ashadamasa, commonly known as Moolamasa, does not perform auspicious deeds. However, it is special that the chariot festival is held here in this month itself. It is believed that in this Rathotsavam, the newly weds couple will be blessed with a son as they throw the fruit and grain into the trash. Lakhs of people from various sources of the state including people from Karnataka, Tamil Nadu, Kerala state attend the Chamarajeshwara Rathotsavam. Linga predominates in the Chamarajeshwara temple, with Chamundeshwari on the right and Kempananjamamba temple on the left.
Girija Kalyanam is also the biggest celebration in the temple which is performed in the month of June on Every year. At this time many Devotees visit this temple for blessings of God and Goddesses. Special Programs are Organised on the Occasion on Maha Shivratri and Girija Kalyanam.
Chamarajeshwara  Temple Timings:
Morning Darshan Timing – 07:30 AM to 11:30 AM
Evening Darshan Timing – 05:30 PM to 08:30 PM
Daily Abhishekam times:
Morning: At 07:30 am and 10:30 am
Evening: At 06:00 pm
Address of Chamarajeshwara Temple:
Chamarajeshwara Temple, Car St, Galipur, Chamarajanagar, Karnataka 571313
How to Reach Chamarajeshwara Temple:
By Bus
KSRTC and private buses are available from Bengaluru to Chamarajanagar the ticket Fare: Rs. 125/- per head. From there people can reach the temple by auto.
By Train
Express trains are available from Bengaluru to Chamarajanagar the ticket Fare:Rs.60/-. from railway station visitors can hire taxi or auto to the Chamarajeshwara Temple.
By Air
Nearest  Airport is Mandakalli Airport Mysore which is located 51 KM from Chamarajeshwara Temple. From there it takes 35-45 mins of time to reach the Temple.
Distance to Chamarajeshwara Temple
Chamarajeshwara Temple from Bangalore – 172.9 kms
Chamarajeshwara Temple from Mysore – 60 kms
Chamarajeshwara Temple Images: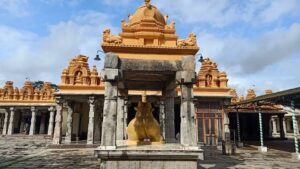 Other Famous Temples in Karnataka: