Bedse Caves – Kamshet
Bedse Caves popularly known as Bedse Caves are very ancient caves located near Kamshet in Maval Taluka of Pune District. These caves are 2300 years old Buddhist monuments and are considered as one of the oldest caves in Maharashtra and one of the must visit places in Lonavala. The Bedse Caves complete the three Buddhist caves around Lonavala along with the Karla Caves and Bhaja Caves.
History of Bedse Caves
The history of Bedse Caves dates back to the 1st century BC. These caves were built during the reign of the great Ashoka ruler. Birdseye Caves have historical significance. He was so grief-stricken and filled with remorse that he resolved to abstain from violence and never to take up arms. As an atonement for this great mistake Ashoka converted to Buddhism and built many Buddhist monasteries for prayer and Bedse Caves was one of them.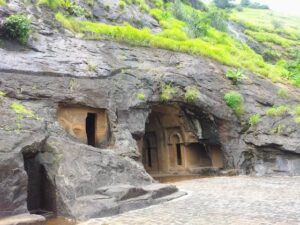 Architectural Features of Bedse Caves
These caves are designed in the style of Buddhist sculpture. There are two main caves. The well-known cave 'Chaitya" is a prayer hall with a relatively large stupa; Another cave monastery  'Vihara'. Both caves are less ornate than the latter, though they contain some sculptures. Both the caves face east so it is recommended to visit the caves early in the morning, the beauty of the carvings is enhanced in the sunlight. There is also a small "stupam" to the right of the main caves.
During British rule, the caves were properly maintained. Skilled artists were employed to paint these caves. This was the situation till about 1861. British officials who were also art lovers frequented this place. Cave management was one of the means used by the local authorities to please the British authorities. However, the result of this excessive painting in caves is the loss of remains of plaster.
The two caves, Viharas and Chaityam, display astounding and breathtaking rock carvings and architecture. There are five columns framed with simple ornaments. Caves left by their benefactors contain many ancient inscriptions. The entrance to the cave is constructed using two pillars and two columns, each of which is beautifully decorated with humans and deities and animals like bull, horse or elephant.
These viharas are known as rain caves because Bhikku or Buddhist monks lived in these viharas during the rainy season. The entrance to the caves is framed by columns and pillars decorated with sculptures of horses, bulls, elephants and deities. Apart from the two main caves, the cave complex includes innumerable smaller caves and a cave built solely for meditation. These caves have water tanks beneath them to provide a natural cooling effect with water from springs.
Food & Accommodation:
There are home-stays, hotels, and restaurants in nearby villages. Hotels are also available at Lonavala and Khandala, which are about 15 km from Bhaja Caves.
Note
Bedse Caves are less known and less visited by people as compared to Karla and Bhaja Caves. These caves can be reached by climbing 400 steps. The caves are located in the village of Bedse, a 20 – 30 minutes walk from the village. The trail is scenic and offers stunning views of the peaceful village and lush green nature.
Timings of Bedse caves
Bedse Caves timings are from Morning 09:00 am to Evening 06:00 pm.
Best time to visit Bedse caves Kamshet
The best time to visit the Bedse Caves is during the monsoon season, when the hills are lush with greenery. Many small waterfalls are also created which can be enjoyed only during the rainy season.
How to Reach Bedse caves
Bedse Caves can be easily reached on three ways by road, air and rail. By road, it takes 1 hour 27 minutes to reach Bedse Caves from Pune, which is 54 km from Pune city. The best way to reach by road is from Kamshet to Pawannagar and Bedse which is 7-9 km from there.
The nearest railway station to Bedse Caves is Pune railway station, which is well connected to Nagpur, Mumbai, Ahmedabad and Delhi. Tourists can easily reach these Bedse caves by cabs from the station.
Nearest Airport is located at Pune International Airport which is 57.1kms away from Caves, it takes 1hr 15mins of time to reach. From there cabs and autos are available to reach the Bedse Caves.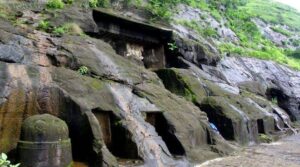 Other Attractions Near Bedse Caves
Karnala Bird Sanctuary
Ekvira Temple
Bhaja Caves
Karla Caves
Lohagad Fort
Matheran Hill Station
Sangram Durg,Chakan
Pune City
Bedse Caves Location
Maval taluka, Pune,
Maharashtra – 410405
Bedse Caves Photos: