Vijayawada – Bangalore, Hyderabad, Chennai, Tirupati, Nellore, Srikalahasti, Annavaram, Distance
About Vijayawada:
Vijayawada, also known as Bezawada, is a vibrant and bustling city situated on the banks of the Krishna River in the Indian state of Andhra Pradesh. With a rich historical and cultural heritage, Vijayawada is a city that blends tradition and modernity seamlessly.
Vijayawada, the third-largest city in Andhra Pradesh, is located in the Krishna district and serves as its administrative headquarters. Vijayawada derives its name from the Goddess Kanaka Durga, who is revered and worshipped in the famous Kanaka Durga Temple situated on Indrakeeladri Hill. Vijayawada is renowned for its iconic Prakasham Barrage, a picturesque bridge over the Krishna River that adds to the city's beauty.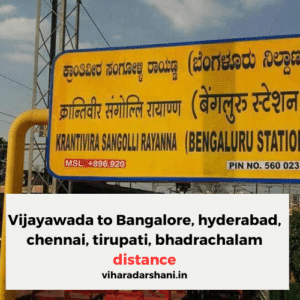 Let us know about the distance between Vijayawada to Bangalore , Hyderabad, chennai etc.
Vijayawada to hyderabad distance: 5 hr 3 min (274.3 km) via NH 65
Vijayawada to bangalore distance:11 hr 59 min (658.2 km) via NH16
Vijayawada to chennai distance: 8 hr 17 min (454.6 km) via NH16 and NH16
Vijayawada to nellore distance:4 hr 43 min (281.7 km) via NH16 and NH16
Vijayawada to tirupati distance: 7 hr 39 min (410.6 km) via NH16 and NH16
Vijayawada to srikalahasti distance: 6 hr 46 min (377.4 km) via NH16 and NH16
Vijayawada to annavaram distance:4 hr 7 min (233.8 km) via Chennai – Kolkata Hwy and NH16
Vijayawada to arunachalam: 4 hr 24 min (192.6 km) via NH30
Vijayawada to bhadrachalam distance: 4 hr 6 min (178.6 km) via NH30
Please note that travel times mentioned above are approximate and can vary depending on various factors such as traffic congestion, road conditions, and the chosen mode of transportation. It's always advisable to check real-time traffic updates and plan your journey accordingly.