Annapoorneshwari Temple Horanadu
Horanadu Annapoorneshwari Temple is situated on the banks of river Bhadra and is also known as Sri Kshetra Horanadu. It is dedicated to Goddess Annapurneswari or the temple was built by the venerable Sage Agastya. The four-armed, standing posture of the goddess is very beautiful. It is believed that those who come to the temple and pray to the goddess will never get hungry in life.
The word Annapurna is made up of two words anna meaning grains or food and poori meaning perfect and complete. Hence, Annapurna means complete or perfect food. It is believed to be an incarnation of Goddess Parvati, wife of Lord Shiva.
History of Horanadu Annapoorneshwari Temple
Devotees believe that the original temple was very small and was established by the holy sage Agastya. The 5th Dharmakarta Shri DB Venkatasubba Jois also renovated the temple following Vastu sculpture and Astrology.
The 6th Dharmakartha built the Navagraha temple. He also installed a steam cooking system in the temple kitchen, Annachatra and guesthouses for pilgrims and labour colonies. In 1973 Sri Annapurneswari was reinstated. Sringeri Sarada Peetha Jagadguru Shankaracharya Sri Abhinava Vidyatirtha Mahaswamiji also performed the Maha Kumbhabhishekam here.
Ammavaru here is also praised and glorified in many ancient scriptures such as Annapurnamantrotsavam, Maha Tripurasiddhanta, Annapurna Kavacha, Annapurnahavanti, Annapurnamalininakshatramalika, Bhairvahyantantram, Rudrayamala, and Sivarahasya. Jagadguru Shankaracharya also performed Maha Kumbhabhishekam in this temple.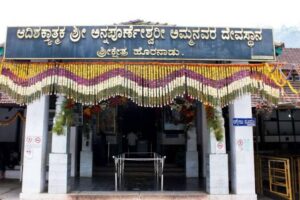 Importance of Annapurneshwari Temple
Annadanam scheme provides a free three-course vegetarian meal. Annapurneswari temple has significance in providing food to the people with the blessings of Goddess Annapurneswari. Devotees believe that after giving alms, there will never be a shortage of food in life.
All visitors, irrespective of creed, caste or creed, are provided with a free three-course vegetarian meal. Pilgrims are served three times a day – breakfast, lunch and dinner. They are also provided with free evening tea and coffee.
Aksharabhyasam and Namakarna
Pilgrims can also perform Namakarnam (naming of the newborn) and Aksharabhyasam ritual at the temple. Aksharabhyasam ritual includes reciting mantras and slokas and writing the name of Ganapati and Saraswati on the rice offering.
Architecture of Annapurneshwari Temple
The temple has a grand entrance with steps leading to the Annapurneswari Devi shrine. To the left of the entrance there is a mandapam and a queue complex to enter the hall where prasad is offered to pilgrims and devotees. The gopuram of the temple complex is adorned with beautiful sculptures of Hindu gods and goddesses. Artwork can also be seen in the form of intricate and mesmerising carvings on the roofs of the Annapurneswari temple.
The divine idol of Annapurneswari Devi is made of gold and she is resplendent in her fine ornaments and attire. She has grace and strength as she stands holding a conch shell, Sri Chakra, Chakra and Devi Gayatri in each hand. The small area in front of her is lit with lamps that add a divine glow to the atmosphere.
Festivals were celebrated at Annapurneshwari Temple
Rathotsavam

: This temple festival is a five-day festival celebrated from February to March every year.

Akshaya Tadige

: Also known as

Akshaya Tritiya

between April and May every year as it marks the birthday of Goddess Annapurneswari and the beginning of summer.

Navratri

: A nine-day festival dedicated to the nine divine forms of Goddess Durga celebrated in September – October.
Horanadu Temple Timings
The horanadu annapoorneshwari temple darshan timings are:
Morning Darshan: 06:30 AM – 09:00 AM
Afternoon Darshan: 11:00 AM – 02:00 PM
Evening Darshan: 07:00 PM – 09:30 PM
horanadu annapoorneshwari temple sevas:
Regular Sevas
Maharanga Puja – This is also known as Deeparadhana. A devotee Rs. This can be done by getting a receipt. 500
Panchamrita Abhishekam – Goddess is bathed with milk, honey, curd, sugar and ghee. The cost of this service is Rs. 30 on all days except Friday.
Kumkuma Archana – Kumkuma Archana is especially done for Ammavari. Turmeric and saffron are the main ingredients of the aarti. Cost Rs. 40.
One day annadanam seva – A devotee can give a total of one day annadanam (annadanam) of Rs. 5000.
Navagraha Puja – Puja is performed to the Navagrahas (nine deities representing the planets). The cost of the service is Rs.300.
Shri Satya Ganesha Vrata – The Shri satya Ganesha Vratam pooja costs Rs.250 per devotee.
Special services on Fridays
Friday Seva – In this Seva, saffron archana is performed to the Goddess on one Friday of the month for twelve months of the year. Also, the minimum amount to be paid for the service is Rs. 500
Amavasya Seva – Kumkumarchana is performed every new moon month for a year. Also, the minimum amount to be paid is Rs. 500
Annual services
Annual Seva – Annadanam is done to 25 people on a particular day every year called Annual Seva. It only happens on weddings, birthdays and anniversaries. The minimum charge for this Annual seva is Rs.2000
Perpetual Annadana Seva – A devotee can give Annadana to one batch on a special day every year. The minimum amount to be paid is Rs. 100000.
Horanadu Temple Dress Code:
Men – Full trousers, pancha, shirt. Men must remove shirts when entering line of sight.
Women – Should not wear skirts, pants, sleeveless clothes. Must wear Traditional dresses like saree, chudidar, Half Saree.
Entry Fees :

No Entry fees

Photography

: Not Allowed

Best time to visit : From the Month of October to the Month of March.
Annapoorneshwari temple horanadu location:
Mudigere, Taluk, Hornadu,
Karnataka – 577181
Temples Near Horanadu Annapoorneshwari Temple
Kalasa Kalaseshwara Temple is 8 km.
Dharmasthala Sri Manjunatha Temple is 108 km.
Sringeri Sri Sringeri Sharadamba 70 km.
Udupi Sri Krishna Temple 118 km.
Kollur Sri Kollur Murambika Temple 168 km.
Bellur and Halebedu are 95 km.
Shravana Belagola Sri Bahubali 220 km.
Horanadu to Dharmasthala distance – 2 hr 39 min (88.1 km) via SH 106 and NH73
Horanadu to Sringeri distance – 1 hr 25 min (42.4 km) via Balehonnure – Sringeri Rd/Chikkamagaluru – Sringeri Rd
How to reach annapoorneshwari temple horanadu:
By Air: Horanadu's closest airport is Bajpe Airport in Mangalore, Karnataka, which is 66 kilometres distant. Yet, it is a significant international airport that is well connected to both domestic and foreign destinations. The next closest airport is the Mysore airport, which is 178 kilometres away.
By Rail: There is no train station in the city of Horanadu. Horanadu is 55 kilometres from Bantawala, where the closest railway station is. Even from both railway stations, it is nearly as easy to go to Horanadu.
By Road: With the help of KSRTC buses, Horanadu is easily accessible from all of Karnataka's main cities. Several private buses also provide transportation to this location.
annapoorneshwari temple horanadu photos: