Mahalakshmi Temple / Ambabai Temple – Kolhapur
Mahalakshmi Temple, also known as Ambabai Mandir, is a Hindu temple dedicated to Goddess Mahalakshmi in the holy town of Kolhapur in the Indian state of Maharashtra. It is one of the 51 Shakti Peethas, the 18 Mahashakti Peethas mentioned in the Devi Purana, and in Adisankaracharya's hymn to Ashtadasa Shakti Peethas, the eyes of our Goddess Sati fell here.
Our Ambabai murti, made of precious stones of the main deity, clad in a beautiful silken robe, adorned with precious gems, is the only murti made of gems, unlike most cases. Unlike the usual serene representation of Goddess Lakshmi seated on a lotus flower, the Mahalakshmi Devi statue is 3 feet tall and weighs 40 kg. The statue is in a four-armed standing posture. In the lower right hand, she holds a mlung a (a type of citrus fruit). In the upper right hand holds a large mace and in the lower left hand holds a bowl. In the upper left hand, she holds a shield locally known as Khetaka. A stone lion, the vehicle for the goddess, stands behind her.
Kolhapur Mahalakshmi Temple History
It is generally accepted that the original temple was built by the Chalukyas during this particular period from 550 AD to 660 AD. which is also evident from the distinctive architectural style. However, an earthquake in the 8th century destroyed many of the ancient structures. Some parts have survived and can be seen till date.
Eventually, Konkan king Karnadio discovered the existence of the temple in 109 AD. King Ganda Raditya (11th century) of the Shilahara dynasty built a path through which devotees could circumambulate around the main sanctum sanctorum. He also built two temples dedicated to Mahakali and Maha Saraswati. The Matulinga on the second floor of the main sanctum is believed to have been erected during the Yadava reign.
The eastern entrance of the Kolhapur Mahalakshmi Temple complex bears an inscription dating back to the Maratha rule in the 18th century. It states that restoration work was carried out by the Dhabadels and Gaikwads who ruled the region at that time.
The five gopurams were built by Sri Shankaracharya of Sankeshwar in the 19th century. The Garuda Mandapam was built between 1838 – 1843 under Daji Pandit. Kurma Mandapam and Ganapati Chowk are believed to have been built by the Yadava dynasty.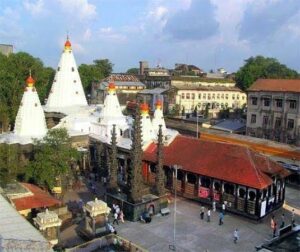 Kolhapur Mahalaxmi Temple Architecture
The architecture of Kolhapur Mahalakshmi Temple follows the "Hemadpanthi" style. The temple complex consists of five massive towers and a main hall. Goddess Mahalakshmi sits on top of the largest gopuram sanctum sanctorum. The north and south gopuras house Goddess Mahakali and Maha Saraswati respectively. The Kolhapur Mahalakshmi Temple also has a Sri Yantra that geometrically represents the three deities.
The temple has four entrances but the main entrance called Mahadwar is on the west side. It is believed that the Mahadwara was built by Sri Adisankaracharya himself. Seshashahi Temple, Navagraha Temple, Vitthal Temple and Rakhumai Temple dedicated to Lord Vishnu are all located in this complex. On the southern side, there are several shrines dedicated to Kalabhairava, Siddhivinayak, Radhakrishna, Annapurna, Indrasabha and Ramesvara.
Above the main sanctum sanctorum, on the second level, is a shrine dedicated to Ganapati. Along with Rati Nandi, one can also see a Shivalinga called Mathulinga. The form of worshipping Goddess in Kolhapur Mahalakshmi Temple is unique and a sight to behold.
Kiranotsav: An Extraordinary Event
A Confluence of Nature and Architecture: A complex of Kiranotsav Prakriti and architecture. The rays of the setting sun directly reach the idol of Goddess Mahalakshmi (Ambabai); Very much inside the sanctum sanctorum. In between it happens twice a year. First, on 31 January, 1 February and 2 February and Second on 9, 10 & 11 November every year. When Sun is transiting during Dakshinayanam & Uttarayanam; The period between Makar Sankranti (on January 14) and Kark Sankranti (on July 16) is culturally defined. Dakshinayana is derived from two Sanskrit words Dakshina (south) & Ayana (movement). Similarly, Uttarayanam is Uttara (North) & Ayana (Movement).
Kolhapur Mahalakshmi Temple Timings
Temple opens daily at Morning 04:00 am and Closes at Night 10:30 pm.
Regular Aarti Timings are:
Mandir Opening Time – 4:00 AM
Padyapuja & Mukhmarjan – 5:00 AM
KAKAD ARTI – 5:30 AM TO 6:00AM
Naivedya: – Butter and sugarAfter the opening of the temple in the morning, the Goddess KakadAarti begins at 5.30 am with mouthwash and foot worship of the Goddess, offering butter and sugar.
MORNING MAHAPUJA – 8:00 AM
At 8.30 am the bell is rung and Goddess Panchamrut Abhishek, Shodshopchar Pooja is performed and KhiriNaivaidya is offered.
HOLY FOOD (NAIVEDYA) – 9:30 AM
AFTERNOON MAHAPUJA – 11:30 AM
Panchamrut Abhishek Shodshopchar Pooja is performed at 11.30 am and Mahanaivaidya is offered at Puranpoli on Friday at 8.15 pm Mangalarati is started.
ALANKAR POOJA – 01:30 PM
Alankar Puja is performed by offering Mahavastra to the Goddess and wearing traditional gold ornaments on the body of the Goddess.
DHUPARTI – 8.00 pm
The bell rings at 8 pm and starts at 8.15 am and after offering to Shri,Ladu Karanja's Nadi vaidya, Shankh Tirtha is performed
SHEJARTI – 10.00 pm
Neighbors used to offer milk and sugar at 10.15 pm. The temple closes at 10.30 pm.
Naraka Chaturdashi:
1:30 AM – Ghantanad, followed by Padya Abhishekam
3:15 AM – Kakad Aarti
From the month of Kartika to Naraka Chaturdashi:
2:30 AM – Opening of temple door
03.15 AM – Kakad Aarti
3:30 AM – Worship by devotees
5:00 AM to 6:00 AM – Aarti and Sankhatirtha followed by Mata Prathu Puja.
Kolhapur Mahalakshmi Temple from Amavasya to Chaturdashi:
3:30 AM – Opening of temple door
4:15 AM – Padya Abhishekam, Kakad Aarti
5:30 AM – First Mata Mahapuja followed by Aarti & Sankhatirtha
11:30 AM – Second Mata Mahapuja followed by Sankhatirtha & Holy Food
7:30 to 8:30 PM – Ghantanad, Aarti, Mata Tirtha Mantra
09:30 PM – Ghantanad, Shej Aarti, Mantra Pushpa
09:30 PM – Ghantanad, Aarti, Mata Tirtha Mantra and then the temple doors are closed.
Mahalakshmi Temple Service / Pooja / Abhishekam cost details
Padyapuja Rs.151/-
Saffron Archana Rs.251/-
General Abhishekam ticket price is Rs.551/-
Abhishekam (sari offered by devotees) Rs.351/-
Maha Abhishekam – Rs.751/-
with Saree Rs.751/-
Maha Abhishekam 10 Prasadams
Puranam Poli Naivaidyam (a dish) Rs.201/-
Permanent Pooja (per year by deposit) Rs.10,000/-
How to reach Kolhapur Mahalakshmi Temple
By Air – The nearest airport is at a distance of 228 km in Goa. Pune International Airport is 249 km away from Kolhapur.
By Rail – The nearest railway station is at Kolhapur for which weekly trains are available. The next nearest station is at Miraji, 49 km away.
By road – A direct bus is available from Satara and Karad to the temple.
Kolhapur Mahalakshmi Temple Accommodation: There are some hotels available at kolhapur mahalakshmi temple. They are:
Hotel Sam Suman
Hotel Silver Oak Indira Sagar
Hotel Hotel Brindavan
Hotel Tandoor Corner
Ved Homestay Tejas Lake View
Hotel Madhuri Executive
Hotel Classic MidTown
Hotel Royal Treat Kolhapur
Padma Guest House
Kolhapur Mahalakshmi Temple Address
mahalaxmi mandir, West gate,
Tarabai road, Mahadwar Road,
Kolhapur, Maharashtra – 416012 
Kolhapur Mahalakshmi Temple Photos: