Unakoti – Tripura
Unakoti Hill is a place of great spiritual significance in Tripura. The word 'unakoti' means one less koti (one less than 10 million) in Bengali. Unakoti, located 180 km from Agartala the capital of Tripura, just 8 km from the sub-divisional headquarters of Kailasahwar town it is a place unparalleled in any other part of the country in terms of grandeur and artistry. Although the dynasty of origin of Shaiva idols is still unknown, Unakoti sculptures were created around 7th to 9th centuries AD. Many rock cravings here depict the life of Lord Shiva as well as other examples of Hindu Mythology.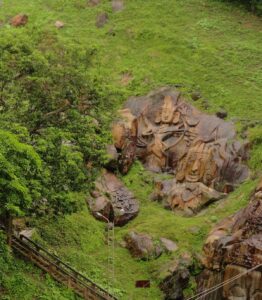 History of Unakoti
Many legends and myths are associated with this site and the people of the region revere it as a holy place. One of the stories gather by the people about this place is that famous sculptor Kalukumar saw Lord Shiva in his dream. The Lord asked him to carve crores of images in a single night to make this place as holy as Varanasi. The sculptor along with his colleagues worked through the night and managed to complete the creation of around one crore sculptures. However, when Kalukumar was just one sculpture short, he got an idea to create his own figure to gain immortality but before he complete his work day broke and the mammoth work of crores of sculptures and figures remained unfinished.
Another myth is that one crore deities and their followers are going to Varanasi led by Lord Shiva. They wished to rest at night. No one but Lord Shiva could get up early in the morning. Others turned to stone. That's why this area got the name Unakoti.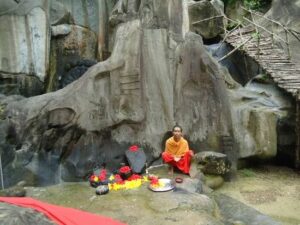 Tourist attractions at Unakoti
Among the rock-cut sculptures is a 33 feet high idol of Lord Shiva. Its 11 feet high turban is now partially broken. The main figure in the idol complex and locally known as Unakoteeshwara Kalabhairava. The image of Shiva is identified from the third eye and trident.
Another three-eyed figure at some distance is believed to be Surya or Vishnu. A huge Ganesha figure is also carved in the complex, with a four-faced Shiva Lingam nearby. Rocks contains the images of Lord vishnu, Hanuman, Nandi, Ravana, Durga and many unidentified deities. The consensus among archaeologists is that while the main influence of Shiva worship is clear, the sculptures were also influenced by many other cults such as Tantric, Shakti and Hatha yogis. It is also speculated that the site dates back to between the 12th and 16th centuries and the sculptures belong to two different art periods.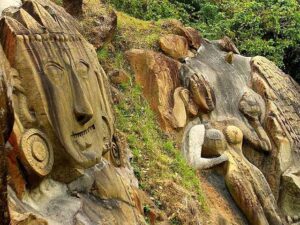 Important places near and around Unakoti
Unokoteshwara Kala Bhairava: This is one of the most interesting places to travel in this region. Shiva's enormous head is about 30 feet long. Our Durga is also seen on the turban of Lord Shiva's idol. The carving is part of a larger collection of carvings and sculptures on the hill.
Udayan Buddha Bihar: The idol here is 4.5 feet tall, 300 kg, made of eight types of metals. Every year, a large number of devotees come here to visit Maa Durga.
Lakshmi Narayana Mandir: A famous temple in this region. And in 1964, an idol of Lord Krishna was installed in the temple. The royal family from Tripura provided money for the construction of the main temple.
Ashokashtami Festival
Ashokashtami festival is celebrated in a great way and a big fair(Jatara) is also held on this time. Every year, this festival is celebrated in March or April. The fair and holy bath at Sitakund are two attractions that attract travelers from all over.
These festivals involve the performance of many rituals and traditions. From the Himalayas, a large number of sadhus or sadhus attend this festival and participate in various private religious rituals.
Why is it called Northeast Angkor Wat?
The formations of rock-cut sculptures are magnificent and having distinct Mongoloid features and it seems almost the same mystical appeal as the spellbinding figures of the Angkor Wat temple in Cambodia. So call it Northeast Angkor Wat.
Unakoti visiting Hours
Visiting timings starts from 06:00 AM in the morning and ends at 06:00 PM.
How to reach Unakoti by plane?
Kamalpur is the nearest airport to Unakoti. The nearest major airport is Agartala, about three and a half hours away. Agartal is well connected to the major cities like Guwahati, Hyderabad, Bangalore, Mumbai, Kolkata, New Delhi and Imphal. From the airport visitors can easily reach Unakoti by hiring a bus or cab.
How to reach Unakoti by road?
Buses to Unakoti are available from most of the nearby cities and towns in the Tripura.
How to reach Unakoti by train?
The nearest railway station Kumarghat is connected to all major cities of Tripura. From the railway station visitors can easily hire cabs and buses to reach Unakoti.
Hotels near to Unakoti
Unakoti Tourist lordge
Hotel seven sister
Hotel Asha
Juri lordge
Hotel Saraju
Utsav hotel
Unakoti Address
Dharmanagar – Kailashahar Road,
Uttar Unakuti RF, Tripura – 799254, India
Frequently asked questions about Unakoti
What is the altitude of Unakoti?
Altitude of Unakoti is 915m above sea level.
What is the best time to visit Unakoti hills?
Throughout the year it is available to visit but, From October to April it is the best time to visit Unakoti.
How far is Dharmanagar from Unakoti?
Dharmanagar is about 20kms from Unakoti?
What is the special of Unakoti?
The Marvellous Rock craving's and murals with their primitive waterfalls.
What are the places near Unakoti?
Kailashahar 5 km from Unakoti, Mamit 60 km from Unakoti, Kolasib 62 km from Unakoti, Cherrapunji 115 km from Unakoti, Agartala 95 km from Unakoti.