Sri Rama Navami 2023
Sri Rama Navami  is celebrated as the birthday of Lord Sri Rama; it is also called as Rama Navami. It falls on the ninth day of Shukla Paksha (waxing phase of the Moon) in the Telugu month of Chaitra (March – April). The date of Rama Navami 2023 is March 30. It also marks the last day of Chaitra Navratri. Sri Rama is the seventh incarnation of Lord Vishnu and is known as Maryada Purushottam – the embodiment of valour and virtue.
In northern India, Rama Navami is a nine-day festival and the last day of Chaitra or Vasant Navratri. This period is also observed as Ramayana week in many parts of India.
Rama Navami History
Rama Navami is celebrated to commemorate the birth of Lord Rama to King Dasharatha who ruled Ayodhya at that time. King Dasharatha married a total of three queens Kausalya, Sumitra and Kaikeyi. For a long time, the three queens could not successfully give birth to a child.
King Dasharatha was advised by a sage named Vasistha to perform an auspicious ceremony known as "Putrakameshti Yajna". The king Dasharatha did so, and it was successful. During the ceremony, the emperor gave each wife a dish called "payasam" in an attempt to fulfil his dream of becoming a father. As a direct consequence of this, on the ninth day of the Hindu month of Chitra, the emperor was honoured with the birth of a son. In contrast, other queens were responsible for the birth of Lakshmana and Bharata, while Queen Kausalya gave birth to Lord Rama.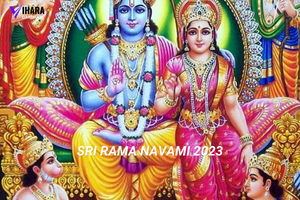 How is Rama Navami celebrated?
Bhajans and kirtans are performed in devotees' homes or religious places dedicated to Lord Rama. People visit temples to seek blessings of the Lord on this day. In places like Ayodhya, processions are held with small idols of Rama placed on cradles.
Many temples conduct "Havana" a fire ritual aimed at purifying the mind, body and spirit. The priests distribute sweets and fruits to the devotees in the form of "Prasad". Generally, devotees fast all day till midnight. Fasting is usually broken by eating sweets and fruits. Ramlila – A staged depiction of Lord Rama defeating Ravana is staged in many parts of the country. The play is usually performed on an open stage.
It is celebrated all over the country but majorly in Ayodhya, Bhadrachalam, Rameswaram and Sitamarhi. Apart from Rama, the deities of Sita, Lakshmana and Hanuman are also worshipped on this day.
Why do Kalyanam on Sri Rama Navami?
There are 2 reasons to perform Kalyana Utsav to Lord Rama on Sri Rama Navami day.
Lord Rama appeared on earth for the welfare of the world and it is by his grace that good is done in the world. Devi Sita is the personification of mercy and without her the work of God cannot begin. Sita asked Rama to go into exile only if he took her with him. Then Lord Rama accepts to take Devi Sita with him to the forest. This is the reason why we perform Kalyanam on the day of Avatarah Mahotsavam and keep both together.

The second reason why we celebrate Kalyana Utsav on Rama Navami is because it starts from "Bhadrachalam" only. Sri Ramadasji did it in his time on Srirama Navami day for the prestige of that temple. So automatically Kalyanam started to be performed on Sri Rama Navami day, thereafter It started to be practised in the country or all over the world. Conducting a Kalyana Utsav brings prosperity and happiness to the devotees and the community.
Sri Rama Navami Puja Date, Timings and Muhurta
In this year 2023, the festival of Rama Navami will be celebrated on March 30 ,Thursday, 2023.
Rama Navami Puja Muhurta: 11:11 AM to 01:40 PM Duration: 2 Hours 29 Minutes
Rama Navami Noon Moment: 12:26 PM
Navami Tithi Starts: At March 29, 2023 09:07 PM
Navami Tithi Ends: At March 30, 2023 11:30 PM
Vratam (fasting) procedure on Sri Rama Navami
Sri Rama Navami vratam (fasting) is one of the most important rituals followed by Hindus. Many devotees do fasting initiations from morning throughout the day. Some people follow a liquid diet on that day and some prefer to have one meal at a time. Food items like potatoes, garlic, ginger, onion etc are generally avoided during fasting time. Some people only eat fruits.
Frequently Asked Questions About Ram Navami 2023
Which is the date of Rama Navami festival?
         In 2023, Sri Rama Navami will be celebrated on Thursday, 30th March .
What are the places where the main celebrations of the festival take place?
         Sitamarhi, Rameswaram, Bhadrachalam and Ayodhya, Vontimitta are the places where the main                         celebrations of the festival take place.
Do people fast on Rama Navami?
         Yes, people fast from midnight to midnight or midnight to noon on Rama Navami.
When will Rama Navami be celebrated in 2024?
         In 2024, Rama Navami will be celebrated on April 17.
When will Rama Navami be celebrated in 2025?
         In 2025, Rama Navami will be celebrated on April 6.