Chhatarpur Mandir – Delhi
At a distance of 4 km from Qutub Minar and 19 km from New Delhi Railway Station, Chhatarpur is situated near Mehrauli – Gurgaon road, Sri Adya Katyayani Shakti Peeth Mandir popularly known as Chhatarpur Temple. It is one of the largest temple complexes in India and one of the most popular places in Delhi to visit.
The main deity of Chhatarpur temple is Goddess Katyayani; this is an incarnation of Goddess Durga. Riding on a lion and holding a magnificent Chandrahasa (sword) in her hand, Goddess Katyayani is associated with the form of fierce power and is one of the most widely revered and worshipped forms of Goddess Durga.
Legendary of Chattarpur Mandir
This temple was established in 1974 by Baba Sant Nagpal Ji who passed away in 1998. His mausoleum is located in the premises of the Shiva-Gauri Nageshwar Mandir in the temple complex. Before the Akshardham temple in Delhi was created in 2005, the temple was considered the largest temple in India and the second largest in the world. The temple is built entirely of marble and has jali (perforated stone or latticed screen) work on all the angles. It can be classified as Vesara style architecture.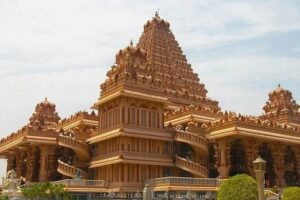 Spread over 60 acres, the entire temple complex has around 20 small and big temples. The main deity in this temple is Katyayani Devi who is a part of Navadurga. A side area of ​​pilgrimage in the main temple houses Katyayani Devi, which can be visited by devotees only during Navratri. Nearby is a living room with silver tables and chairs. Bedroom with bed, dressing table with silver. These places are open when there is a big satsang.
At the main temple entrance, stand an old tree where devotees tie sacred threads for wish fulfilment. Another shrine is dedicated to Goddess Durga which is open to devotees daily from morning to evening for Darshan. Which is situated above the shrines dedicated to Radha Krishna and Ganesha.
Pujas and Rituals at Chhatarpur Mandir
Morning aarti is performed by the temple priest at 06:30 AM and Evening Aarti is performed at 07:00 PM on every day.
Kumbhabhishekam and Guru Purnima special aartis are performed on the occasion of Navratri and Guru Poornima.
Timings of Chhatarpur Mandir
Monday : 04:00 AM – 11:00 PM
Tuesday : 04:00 AM – 11:00 PM
Wednesday : 04:00 AM – 11:00 PM
Thursday : 04:00 AM – 11:00 PM
Friday : 04:00 AM – 11:00 PM
Saturday : 04:00 AM – 11:00 PM
Sunday : 04:00 AM – 11:00 PM
Note: Temple Timings and Aarti timings might be changed on festival days.
Best Time to Visit Chhatarpur Mandir
The ideal time to visit this temple is during Navratri, when the celebrations are in full swing and you can be a part of the vibrant festivities.
How to reach Chattarpur Mandir
Chattarpur Mandir is located in the suburbs of Delhi at a distance of 4 km from Qutub Minar. The shrine is easily accessible and many modes of transport are available for the convenience of visitors.
By Air: New Delhi, the capital city of India, has one of the busiest airports in the world and is well connected to almost all domestic and international terminals.
By Rail: New Delhi Railway Station is 2 km from Chhatarpur Temple. Trains run frequently to almost all destinations in India.
By Road: New Delhi is well connected by bus service to neighbouring towns and villages and many cities in India.
Location of Chhatarpur Mandir
Main Chhatarpur Road, Dr Ambedkar Colony,
Chhatarpur, New Delhi, Delhi – 110074
Nearby tourist attractions
After blessing and exploring the Chhatarpur Temple, tourists can make the most of their visit to Delhi by visiting other popular attractions.
Qutub Minar
garden of five senses
Balban's Tomb
Zafar Mahal
Jahaj Mahal
Chattarpur Temple Photos: